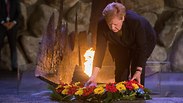 German Chancellor Angela Merkel at Yad Vashem
Photo: Oren Ben Hakon
World leaders will travel to Israel for the commemoration of the 75th anniversary of the liberation of Auschwitz and International Holocaust Remembrance Day, Yad Vashem, the World Holocaust Remembrance Center, said Wednesday.
The event - jointly organized by Yad Vashem and the World Holocaust Forum Foundation - will take place amid a rise in hateful and violent expressions of anti-Semitism, especially in Europe, Yad Vashem said.
Given this alarming situation, efforts to educate the public about the dangers of antisemitism, racism and xenophobia and foster Holocaust commemoration and research have made this event more crucial and relevant than ever, the remembrance center added.
President Reuven Rivlin, under whose patronage the event will be held, invited the world leaders to attend what he called a sacred moment of memory and commitment.
"I am delighted by the number of responses, which is growing every day," the president said.
Presidents Emmanuel Macron of France, Frank-Walter Steinmeier of Germany, Sergio Mattarella of Italy and Alexander Van der Bellen of Austria have already confirmed their attendance.
The president of the World Holocaust Forum Foundation, Dr. Moshe Kantor, who is co-hosting the event with Yad Vashem, said it will provide "a unique opportunity for world leaders to stand up and call 'enough' to anti-Semitism."
"This event is especially important because as the Holocaust recedes further into the past, some of its memory is being forgotten and its lessons are no longer being learned," Kantor said. "'Never Again' is an action plan, one that we must reclaim as a call to protect the future while remembering the past."
Rivlin expressed the hope that the event will leave "a real mark on the struggle against anti-Semitism and for the education of the next generation."
Yad Vashem Chairman Avner Shalev said that the universal principles, enacted by the international community in the aftermath of the World War II, were instituted with the express purpose of averting future crimes against humanity.
"The ways in which anti-Semitism has persisted and proliferated over recent years must be identified, studied and understood," Shalev said.
It is the responsibility of everyone, especially world leaders, to fight anti-Semitism, racism and xenophobia, he said.