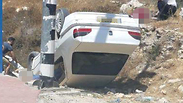 The ramming car
Photo: Tazpit
A brother and sister from the settlement of Elazar in the West Bank were wounded in a car-ramming terror attack in Gush Etzion in the West Bank Friday.

An 18-year-old teen was seriously wounded while a 20-year-old was moderately wounded when a car bearing an Israeli license plate hit the two near the settlement of Elazar.

The attacker drove into the junction at high speed and slid from his lane to hit the teens.

He then lost control of the vehicle and drove into a ditch located behind the bus station where the two were standing, and then shot dead by an off-duty policeman who was on the scene.

The brother and sister are Noa and Nahum Navis; they were waiting for a bus in order to join their parents on a family vacation.

The attacker, 26-year-old Ala Harimi from the Bethlehem region, was a known felon and drug addict associated with the Islamic Jihad and the Fatah movements. He was jailed in Israel for terror offences between 2014-2015.

Passersby called emergency services at 1:45 pm and reported an attack with two wounded teens on Rout 60.

MDA services evacuated the two to Jerusalem hospitals.

Hamas praised the terror attack, saying that "the growing rage of our people and the stabbing and car-ramming events are a response to the breaking in to the Al-Aqsa Mosque. If such events continue in the West Bank there will be a flare-up in the region."

Head of the Gush Etzion Regional Council Shlomo Ne'eman said in response to the attack that "Israeli annexation of the region and developing massive settlements is the right answer to terrorists."

Lior Levy, an MDA paramedic said: "When we arrived on the scene, we saw an 18-year-old teen and a 19-year-old teen behind a bus station. The buy was unconscious and had a head injury and general trauma, and the girl was partially conscious. We gave them life supporting care, including intubating and anesthetizing the boy, and evacuated the to hospitals."

On Thursday, a policeman was stabbed in the Old City of Jerusalem by two Palestinian teens.