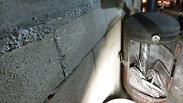 Shrapnel from one of the rockets in Sderot
Photo: Roee Idan
At least three rockets have been fired from the Gaza Strip into southern Israel with the Iron Dome defense system intercepting of the projectiles, Israeli military said Saturday.

The shrapnel from one of the rockets fell into a meat smoker in the backyard of a residential home in the border town of Sderot.

The paramedics who arrived at the scene said at least six people required medical treatment as a result of the incident.

Two people were lightly hurt while running to the bomb shelter, and four others - including a 79-year-old woman - had been treated for shock.

"A rocket alert was sounded in the city of Sderot, Kibbutzim of Gevim and Nir Am," said the IDF Spokesperson's Unit in a statement.

"Three rocket launches from the Gaza Strip into Israeli territory have been recorded. The Iron Dome intercepted two of them."

Israeli warplanes attacked two Hamas "underground infrastructure" overnight Friday in response to a rocket being fired into southern Israel several hours earlier. No injuries or damage was reported.