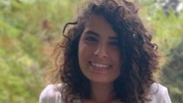 The body of Aya Na'amana, a 21-year-old Technion student who went missing on Friday in the Ethiopian Salt Desert in Danakil, was found on Sunday.

Na'amana fell into a crater from a high cliff and was killed instantly.

Salim, Aya's father, was on an plane making his way to Ethiopia when his daughter's body was found; he was informed once he got off the plane.

"I would have liked to go home to my family with my daughter, but to our great sorrow, we received the worst news possible, the news we didn't want to hear," Salim told Ynet.

"I wish I could hear her voice and hug her, instead of returning without my wonderful daughter," he said.

The Foreign Affairs Ministry said that the Israeli Embassy in Addis Ababa worked with high ranking local army and government officials, alongside an Israeli rescue company, to search for Na'amana.

"Once we learned of the case, local police, army and volunteers were recruited to scan the area," the statement said.

"Scans continued until Sunday using drones and a helicopter, until the body of the young woman, who likely fell to her death, was found.

"The Ministry of Foreign Affairs expresses his condolences to the family and is assisting them in bringing Aya's body to Israel for burial," added the statement.

Na'amana went on a trip as part of a Technion delegation and became separated from the group during a trip to the Salt Desert. She failed to reach at the meeting point, and her friends started posting on Facebook messages about her disappearance.

"Urgent! Aya Na'amana got lost during a trip with a group of Israelis in Danakil, Ethiopia. She has been out for more than nine hours in a 50 degrees Celsius heat with no water," said the post in a group for backpackers in Africa.

The Technion said in a statement: "We grieve for the death of the student Aya Na'amana from the Civil & Environmental Engineering Faculty and send condolences to the family.

"Aya was part of a Technion course that took place in Ethiopia, along with other students the Technion and from York University in Canada and the Ethiopian MU. The course was four weeks long and ended last Wednesday. After the course, six students, including Aya, decided to stay and travel Ethiopia, and in the course of the trip Aya got lost.

"The Technion is in contact with her family and will assist them in anything they need," concluded the statement.