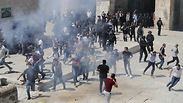 Clashes between police forces and Muslim worshippers on Temple Mount (photo: AFP(
Photo: AFP
Jordan has summoned Israel's ambassador to protest "Israeli violations" at a Jerusalem holy site sacred to Muslims and Jews.

Jordan's Foreign Ministry said Sunday that Amman delivered a "decisive letter" to the ambassador, including a call "to immediately cease all Israeli violations and all Israeli attempts to change the historical, legal status" at the site.

In an earlier meeting with the ambassadors from the European Union, Jordanian Foreign Minister Ayman Safadi stressed the urgency of effective international steps that must be taken against Israel's actions saying "these violations & others seeking to change status quo in Holy Sites violate Int'l law, deepen tensions."

Muslim worshippers clashed with Israeli police last week at the site, known as the Temple Mount to Jews and the Noble Sanctuary to Muslims. Palestinians were protesting a visit by hundreds of Israelis to the flashpoint site on a day in which Muslim and Jewish holidays coincided.

In a rare occurrence this year, both the Muslim holiday of Eid al-Adha, which translates as the "Festival of the Sacrifice" and the Jewish holiday of "Tisha Be' Av" which marks the destruction of the two Jewish temples that were situated on Temple Mount and destroyed centuries ago, fell on the same days.

Last week Public Security Minister Gilad Erdan last week, stated Israel should push to change the status quo at the Temple Mount.

Jordan says the site is a "place of worship for Muslims only."

The Status quo has been in place since 1967, in the immediate aftermath of the Six Day War and formalizes the mosques compound as a Muslim shrine while Jews and Christians can visit it.

The hilltop shrine is managed by an Islamic trust under Jordanian stewardship.