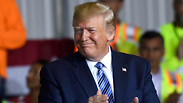 U.S. President Donald Trump
Photo: AP
U.S. President Donald Trump said on Sunday he would likely wait until after Israel's Sept. 17 elections to release a peace plan for the region that was designed by White House senior adviser Jared Kushner.

However, Trump added that parts of the plan could be published before the elections.

Kushner, Trump's son-in-law, is the main architect of a proposed economic development plan for the Palestinians, Jordan, Egypt and Lebanon that is designed to create peace in the region.

In June, the first stage of Trump's peace plan was launched at the Bahrain international economic conference, announcing a $50 billion in investments in the Palestinian sphere as the first stage of the plan.

Neither Israeli nor Palestinian governments attended the curtain-raising event in the Bahraini capital, Manama, and Palestinians deemed the plan as an "economy first" approach doomed to fail.

"I think we all have to recognize that if there ever is a deal, it's not going to be along the lines of the Arab Peace Initiative. It will be somewhere between the Arab Peace Initiative and between the Israeli position," Kushner told Al Jazeera in an interview in June, careful not to expose the guidelines of the actual plan.

In early June, U.S. ambassador David Friedman told the New York Times that, "under certain circumstances, I think Israel has the right to retain some, but unlikely all, of the West Bank," possibly implying to the content of Trump's peace plan, sometimes referred to as "the Deal of the Century."

Trump has already executed several moves that prove his commitment to the Israeli government's interests; in March, he met with Prime Minister Benjamin Netanyahu at the White House Monday evening and signed a decree recognizing Israeli sovereignty over the Golan Heights.

Earlier in his term, in May 2018, Trump fulfilled his promise to Prime Minister Benjamin Netanyahu and moved the American embassy from Tel Aviv to Jerusalem.

The relocation of the embassy from Tel Aviv has infuriated the Palestinians, who seek East Jerusalem as a future capital.