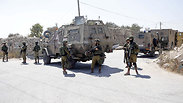 IDF forces search for terrorists suspected of killing Dvir Sorek
Photo: EPA
Palestinian intelligence warns of possible violent uprising in West Bank
A report seen exclusively by Ynet and Yedioth Ahronoth warns the dire political situation in the West Bank combined with PA leadership's policies have yielded no political gain, while Hamas and its use of violent resistance is perceived as more politically and economically effective
A Palestinian intelligence warns of a possible deterioration of security situation in the West Bank which may lead to another breakout of violent uprising and destabilize the Palestinian Authority, if the political and economic stagnation continues, according to a report seen exclusively by Ynet and its sister publication Yedioth Ahronoth.
The report was submitted to the PA days before the murder of 18-year-old soldier Dvir Sorek by Palestinian terrorists on August 8 and accurately anticipated the string of terror attacks and attempted attacks in the West Bank and Jerusalem.
The report singles out Palestinians in their mid-twenties, enraged by their situation who see no hope for change in the near future and are therefore most dangerous as potential precipitators of violent resistance.
The authors of the report based their conclusions on interviews conducted with young Palestinians in the West Bank, interrogations of detainees, surveillance of this sector of the population by security authorities and the observation of their social media activity.
The conclusions reached by the intelligence services indicate there will be an increase in shooting incidents and the use of explosive devices, imitating successful attacks that have occurred over the past year resulting in Israeli civilian deaths.
Accessibility to weapons, the report notes, is not a problem due to the thriving illegal weapon market in the West Bank. It also warns that Hamas is constantly trying to enlist terrorists to carry out attacks, directed by its leadership in Gaza and abroad.
An all-out eruption of civilian protests and violence is also anticipated, caused by the dire financial conditions and inspired by the weekly March of Return border protests in the Gaza Strip.
The PA's policy of cooperation with Israel is not seen by Palestinians as having yielded any political benefit. Hamas's violent resistance, however, is perceived by the Palestinian population as much more beneficial in terms of the lifting of the Gaza blockade and an influx of funds into the impoverished Strip.
The Fatah movement also appears to be undergoing a process of radicalization and calls for the renewal of violent resistance are gaining strength, compounded by the inciteful words of Israeli politicians conducting what has turned out to be the longest election campaign in Israel's history.
Finally the report notes that the families of PA officials, those charged with containing opposition from within the West Bank, are at the forefront of the potential escalation in violence, primarily because their incomes have been hurt by Palestinian President Mahmoud Abbas's refusal to accept tax revenue until Israel transfers all funds to Ramallah including those withheld because of stipends to terrorists and their families.