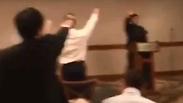 Students giving a Hitler salute
A group of about 10 athletes from the Pacifica High School water polo team in Garden Grove, California were caught on camera giving a Nazi salute and singing a German World War II marching song during an award ceremony last year.
A spokesperson for the Garden Grove Unified School district told the Daily Beast, which uncovered the clip, that the school's administration learned of the clip video last March, but did not specify whether the students were punished or not.
"While the district cannot comment on student discipline, the school did address this situation with all involved students and families," the spokesperson said.
"The district adheres to strong policies about harassment and cultural sensitivity, and we condemn all acts of anti-Semitism and hate in all forms.
"We remain focused on educating students about cultural sensitivity and are committed to holding students accountable, educating them on the consequences of their choices, and the impact these actions have on our schools and community at large."
Rabbi Peter Levi, director of the Anti-Defamation League's Orange County chapter, slammed the school for apparently not addressing the incident with the community.
"Generally speaking, especially when something like this involves a group, we would think a more meaningful approach would be to use this as a learning opportunity, as an opportunity community-wide to state what our values are," Levi told the Daily Beast.
"This requires investigation and conversation… We'd like to see a more systematic response."
It's the second time that year such an incident occurred in the region, after Orange County high school students were suspended when photos of them giving the Nazi salute during a drinking game with cups arranged in a swastika shape went viral in July.
The song sung by the Garden Grove athletes was a marching song written by German composer and member of the Nazi party Herms Niel in the 1930's.
Originally released in 1938, Niel's song became an instant hit in Germany during the Nazi regime.
The song, titled Erika, referring to both a common German female name and the German word for heather, was adopted by the Wehrmacht armed forces and became unmistakably connected to Nazi times.
The song has had a resurgence in popularity in recent years, especially on anonymous online message boards such as 4chan, where users notorious for their dark, highly offensive sense of humor and destructive online pranks were behind numerous online controversies.
Additionally, many remixes and renditions of the song are available on YouTube and have garnered millions of views.