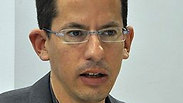 Transfer of Palestinians has always been the Israeli consensus
Opinion: The media can express as much shock as it likes over news that the cabinet has discussed Israel funding the dispatch of Gazans from the Strip, but one can draw a straight line from the creation of the state in 1948, through Prime Minister Levi Eshkol and Defense Minister Moshe Dayan post-1967 and all the way to Netanyahu, Smotrich and Gantz today
A few years ago, when Deputy Knesset Speaker MK Bezalel Smotrich's "Subjugation Plan" was revealed, reactions ranged from bewilderment to shock.
After all, it is not every day in the 21st century that political ideologues try to base their theories on the three letters sent by the Biblical Joshua Bin Nun to the residents of the Land of Canaan upon his entry into it: those who want to accept (the inferior status they will be given) shall accept; those who want to go (voluntary migration, supposedly) shall go; and those who want to fight – shall fight.
As for the third alternative, when the deputy Knesset speaker was asked whether he was referring to killing families, women and children, he replied: "In war as in war."
But just how far is the policy of the Israeli establishment, at which nobody is tsk-tsking, from that display of religious nationalism by one of the heads of the Yamina ("Rightwards") party?
This question can be tested by thinking, for instance, about the fate of the 2 million human beings imprisoned in the Gaza Strip.
The violent fantasy – "those who want to go shall go" – has been in the headlines recently, after it was quoted from an unnamed senior political figure who spoke to reporters during the prime minister's visit to Ukraine.
The "senior figure" – who everybody knows is Prime Minister Benjamin Netanyahu himself – said that Israel is willing, generously, to allow the residents of Gaza to emigrate, if only a country were found that were willing to absorb them. And if that were not enough, Israel is even willing to pay for it – including driving them to the airport, from which they can take off and get the hell out of our sight once and for all.
Is this nutso? We are talking about the prime minister, who was reported to have in fact held a series of cabinet meetings on this subject. And he's not the only one: the person who wishes to succeed Netanyahu, until recently the justice minister, Ayelet Shaked, supports it. In an interview with IDF Radio Shaked explained: "it's called encouraging emigration."
Indeed, it's "encouraging" to understand the logic behind the Israeli policy of holding 2 million people in a crowded and besieged territory, without freedom of movement, with just a few hours of electricity a day, skyrocketing unemployment rates and polluted water.
And what about the third alternative, in war as in war? In this context the Israeli consensus includes at the very least the two major Knesset parties, with their measured and moderate leaderships.
Forget about Smotrich, look at Likud and Blue and White. This is what Netanyahu said a month ago: "We are preparing for a campaign – a wide-reaching military operation that will deal a blow to Hamas and Islamic Jihad. Such a military blow they have never seen." Meanwhile Netanyahu's former IDF chief of staff, Blue and White Chairman MK Benny Gantz promised that "next time anything happens here – we'll make sure it's the last round."
With that in mind, recall what happened when Gaza received what is now retroactively projected to have been the penultimate "military blow" from Israel, in the summer of 2014. The results included more than 500 dead Palestinian children. Remember? In war as in war. That was Netanyahu and Gantz, not Smotrich.
Perhaps we could have filed away the statements of the last few days under the category of verbal escalation for the purpose of election propaganda. Until we get an uncomfortable historic reminder that actually nothing is new.
As the protocols of cabinet discussions from the state archives demonstrate, as far back as 1967 Moshe Dayan sought to "encourage" Palestinians to emigrate, and Prime Minister Levi Eshkol expressed the hope that "perhaps the Arabs would move from the Gaza Strip," which he called a "pen."
Eshkol did not mention the fact that Israel had already "moved Arabs," thereby overcrowding the Gaza Strip with Palestinians it had turned into refugees, but he added that "maybe, if we don't give them enough water, they will have no choice."
And what if the alternative of "he who wishes to go shall go" doesn't come true? Eshkol thought that "perhaps we will have another war and then that problem will be solved."
Three alternatives: to accept being subjects without status or rights, under our control for perpetuity; be forced to leave their homeland; or surrender to our military might. Smotrich didn't invent anything, he is simply verbalizing Dayan and Eshkol, Gantz and Netanyahu, and showing for all to see Israel's generous offers to the Palestinians: surrender, refugeehood or death.
By the way, there is a fourth alternative. It does not appear in the Book of Joshua and does not include election spots in which moderate Israeli leaders count Palestinian bodies.
It will not be easy to realize but its principles are clear: full and equal human rights to all people between the River and the Sea. Choose.
Hagai El-Ad is the the director general of B'Tselem