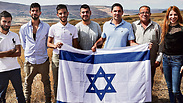 Group of young Israeli Arabs holding an Israeli flag
Israel's Jews should meet Arab outreach with an open hand
Opinion: Ayman Odeh's comments on the possibility of the Joint List joining a center-left coalition have stirred some controversy among his political allies, but they actually make more sense than it seems at first glance, as 87% of Arabs would like the party to be in the coalition
Ayman Odeh, the head of the Joint (Arab) List, said last week that he would consider joining a center-left coalition - presumably headed by main opposition party Blue and White - if Arabs were accepted as equal partners.
Odeh's comments stirred much controversy. Blue and White MK Asaf Zamir even told Ynet that there was no possibility of cooperation with Odeh's party, which is a union of Arab political factions in Israel and represents the majority of the sector's voters. Some 20 percent of the Israeli population are from the Arab community.
Members of Odeh's own party, such as the second on the list MK Ahmad Tibi, rejected his comments, saying they aspire to have as much influence as possible by forming an obstructive bloc in the Knesset.
But the Arabs joining the coalition actually makes much sense.
The percentage of Israeli Arabs taking part in hostile activities is very close to zero. Even when compared to European countries, Israeli Arab involvement in hostile activity is still negligible.
Israeli Arabs are actually going through a process of Israelization. They might not be Zionists, but they are Israeli.
A survey conducted earlier this year found that 94% of Arab citizen of Israel accept that there is a Jewish people and there is a Palestinian people – as opposed to 52% of Jews.
Forty-six percent of the sector defines themselves as "Arab Israeli," a definition heavily disliked by the Arab parliament members and more progressive circles trying to promote the "Palestinian" definition. However, only 14% of Arabs chose to adopt this latter definition and only an additional 14% have adopted the term "Palestinian Israeli."
But most importantly, 87% of Arabs want the Joint List to take part in the coalition. Other surveys conducted by the Israel Democracy Institute and Professor of Sociology at the University of Haifa Sammy Samooha show similar trends.
There is a built-in gap between the positions of the political leadership and the general public in the Arab sector. A similar gap exists among the Jewish population as well. For example, the survey found that 35% of Jews support the participation of an Arab party in the government.
So, what exactly are you afraid of, leaders of the Blue and White party? It is highly unlikely that a single Jewish voter will defect to the Likud if they presented a similar pro-Arab position.
Considering this data, Odeh's notion to join the coalition shows bravery. The fact other members of the Joint List were quick to express their hesitation makes it clear that they prefer hostility to integration.
In order to bolster integration, Blue and White leader Benny Gantz should say yes to Odeh's proposal.
We need to give hope to Israel's Arab citizens, 76% of whom report having good relations with Jews, according to the survey.
There is no need for preconditions such as agreeing on Israel being a Jewish state, because the public is more important than the politicians.
One survey after another proves that the public have spoken, and the most important statement is the desire for cooperation and integration.
The chance of seeing a government including the Joint List is close to zero, but it's not just politics that count – good intentions are also very important.
When Israel's Arabs extend their hand, not only by statements but by growing integration too, its Jews need to extend a hand back. It is not too late to do so.