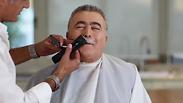 Amir Peretz shaving his mustache
Photo: Labor-Gesher campaign
The moment a whiskerless Amir Peretz appeared on television on Sunday night was one of the saddest things seen on the small screen in recent years.
The Labor chairman sat at the Channel 12 News studio and deep down inside he also probably knew, that if it weren't for this gimmick, wrapped in a quasi-noble excuse, he would not have gotten so much screen time.
His promise not to take part in any government with Prime Minister Benjamin Netanyahu wasn't enough for him in and of itself to silence the rumors circling about a potential deal between the Labor and Likud parties. To paraphrase Israeli rock icon Shalom Hanoch – words don't mean anything, but trimming your mustache after almost 50 years – now that's drama.
Channel 12 News realized the potential behind the story and jumped on it.
"An interview you will want to watch," said Channel 12 News anchor Yonit Levi at the beginning of the interview.
"Outstanding move," read the chyron; but the gap between the seriousness of the war drums echoing from Syria and Lebanon and the childish preoccupation with Peretz's mustache has created a jarring and heavy feeling.
There was also something hollow and cynical about the way Levi tried to extract a confession out of Peretz, saying this was all a desperate move to get attention.
Well, as far as the most-watched news show in Israel cares, it worked. Peretz sacrificed a mustache and got prime time exposure in return.
Peretz hoped to connect his new face to his statement, but the only link made was between the politics and the ridiculous coverage it got, and judging by the way the interview caught on and spread, we can expect further similar acts of commitment down the road. Perhaps bleaching one's hair, tattooing "Anything but Bibi" in Japanese or even a bungee jump?
Even Peretz's explicit and assertive "read my lips" remark directed at the prime minister only served to bolster the incumbent's image.
While Netanyahu is seen walking around with IDF generals, radiating authority and skill in handling critical issues, his opponents turn to childish and goofy gestures.
This is the essence of Netanyahu's message these elections: there are those who have to handle Trump and Putin, Iran and Lebanon, Hezbollah and Hamas, and there are those who need a makeover to control the discourse – and by discourse I don't mean parliament seats, but punchlines on Twitter.
In the end, no one will remember anything about Peretz's attempt to stifle rumors of a deal with Netanyahu, save for him sacrificing his mustache on the altar of his own irrelevance.