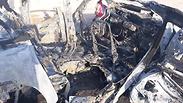 Aftermath of attack on pro-Iranian militia convoy in Iraq
The threats made by Hezbollah leader Hassan Nasrallah to attack Israeli aircraft should indeed be taken seriously.

According to reports, Hezbollah has already tried to shoot down Israeli drones, so far with no success.

But two American drones were shot down in the past couple of months, one by Iran and the other by their proxies, the Houthi rebels in Yemen.

The fact that American drones are falling out of the sky is no coincidence. Everything the Iranians have learned and passed on to the Houthis, is also known by Israel's enemies.

We can only hope Israel has also learned some lessons from the American experiences and is therefore prepared to face any threat Nasrallah is preparing.

The Hezbollah leader threatened action against Israel that could come from either Lebanon or Syria. Israeli forces have increased both intelligence-gathering operations and troop deployment to be able to counter any cross-border aggression from either country.

Iranian targets in Syria have come under dozens of unimpeded Israeli attacks, over the past three years, and Israel is wondering if their patience may be running out, now that the civil war in Syria is nearing its end.

IDF forces on the northern border are expected to stay on high alert. The Israelis are taking Nasrallah at his word.

The timing of the explosions in the Dahiyeh neighborhood of Beirut, just after a targeted strike near Damascus by the Israel Air Force to foil an imminent drone attack, is probably coincidental.

The incident in Beirut, in which two unidentified drones crashed, seems more like an operational malfunction in the course of intelligence gathering by unknown parties.

The drones apparently blew themselves up so as not to fall into Lebanese hands.

While the attack on the village of Aqraba south of Damascus was based on real-time intelligence. The decision to carry out the raid was taken when it was clear that the attack was imminent.

What these two events have in common is that they exposed the frequent use of UAVs in Mideast conflicts.

The fact that one such UAV exploded outside the Hezbollah communication facility adds credence to the theory that the drone was in fact on an intelligence-gathering mission.

If this were an Israeli operation, it would be unusual use of a drone deep inside Lebanon.

UAVs, even the most sophisticated ones, have a limited range of operation.

The less sophisticated ones have a range of 5-10 kilometers only and the more advanced can reach a range of up to 20 kilometers, which means the operators of the drone that blew up in Beirut must relatively close by when they gave the order to detonate.

The same applies to the foiled drone attack targeting the Israeli side of the Golan Heights. The operators would have had been in position close to the Syrian-Israeli border and would have been able to target a military base or a civilian community on the Heights.

UAVs are part of a revolution in precision weapons. They are the ideal tools for terrorists because they are virtually undetectable. They have no heat signature, do not show up on radar and are too small to be seen from a distance.

For a relatively small sum of money, terror groups can obtain precision attack weapons or intelligence-gathering tools, making them in demand from organizations like the Houthis in Yemen or Hamas in Gaza.

So far, all defensive systems are able to do against this threat is protect particular and localized targets.

Reports have been coming in from as early as 2018 about Iran now using Iraq to store advanced missiles destined for their proxy organization, the Lebanese-based Hezbollah.

The depots in Syria that were once used by Iran have been targeted by Israel and deemed no longer safe.