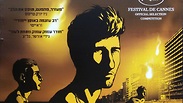 Waltz with Bashir movie poster
Jewish teacher in Scotland fired for screening animated war film in class
Hebrew teacher at top-school in Glasgow claims he was dismissed for anti-Semitic reasons after parents complained he screened Waltz with Bashir - an R-rated animated war documentary about the 1982 Lebanon War - for 12-year-old students
A Jewish teacher at one of Scotland's top school was fired for showing his 12-year-old students an award-winning animated Israeli film, which explicitly depicts the events of the First Lebanon War.
Jonathan Guetta, a Hebrew teacher at Mearns Castle High School in Glasgow, was sacked in May 2018 for screening a war-movie, directed by Israeli filmaker Ari Folman, which contains extremely violent and pornographic content, including bodies of dead children and the graphic details of the night of the Sabra and Shatila massacre. STRONG>
According to the Glasgow daily newspaper Evening Times, Guetta appealed to Scotland's Labor Court after being dismissed and claimed he was fired due to anti-Semitic reasons. The court dismissed his claims on Monday.
The judge in the case, Michelle Sutherland, deemed the animated movie as inappropriate for children because it contains explicit depictions of violence and nudity."It contains war violence, including real life video footage of the aftermath of the massacre showing lifeless bodies of adults and children," said Sutherland.
"It also has a brief explicit pornographic scene showing an animated man penetrating an animated woman."
According to the verdict, the class watched the first 20 minutes of the film with the teacher standing in front of the screen during inappropriate scenes.
A spokesman for East Renfrewshire Council said: "As soon as this matter was brought to our attention, we ensured all appropriate measures were put in place.
"The judgement which has been made in this case supports the actions and decisions taken by the council."
Waltz with Bashir creator, Ari Folman, responded to the incident in a conversation with Ynet, showing his discontent with the school's decision to sack the teacher.
"Why fire him (Guetta), even if they (the school) disagree with him? Even if he had made a mistake, it doesn't make sense to me," said Folman. "Granted, there are a few seconds of live footage at the end of the movie, but the scenes in the movie's first 20 minutes are nothing comapred to the things kids see in video games these days. It seems absurd to me.
"Maybe he was fired because of the message (of the film) and the effects watching a war film from the Middle East might have on Scottish children. We can also discuss the film's age restriction, but my children watched the movie at that age," he said.