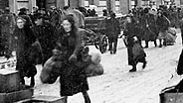 A matriculation certificate was recently discovered in the remains of the Jewish ghetto of Lodz in Poland by the Holocaust Institute for Education, Documentation & Research.
The document was discovered thanks to information given to the Shem Olam Institute by locals about a classroom in an attic of an old building in the ghetto area used by the authorities in Lodz.
Shem Olam representatives found that the attic contained dozens of scriptures, textbooks, and various documents that were all part of an unofficial classroom used by Jewish children and teens during the Nazi occupation.
Between the hundreds of newly discovered documents was a certificate awarded to a 16-year-old Jewish teen called Schalom Besserman, who completed his studies as part of the ghetto's tailoring school.
The certificate, which was awarded to Besserman at the end of the 1943 school year, was written in both Yiddish and German.
It granted him the right to work in the ghetto's textile factory, where conditions were considered to be superior to those in other factories in the ghetto.
This official certificate was awarded to the students on behalf of Mordechai Chaim Rumkowski, the head of the Judenrat (a council of local Jews tasked by the Nazis with administering life in the ghettos), who only gave a limited allocation for professional training of teens in tailoring, shoemaking and carpentry.
This improvised scholastic framework served mostly children of senior Jewish officials in the ghetto's administration.
All schools in Lodz were shut down in 1941 by order of Rumkowski and were replaced by informal learning settings for children, in which they learned reading, writing, Hebrew, Judaism and Zionism.
The only official setting in the ghetto was a professional training course, where teens were taught to become efficient factory workers in the ghetto.
According to the director of Shem Olam, Rabbi Avraham Krieger, this finding provides a fresh view of everyday life for Jews under Nazi occupation.
"This finding has exposed another angle on the life of the Jews in the ghetto, who tried their best to keep on with their normal everyday life despite the Nazi atrocities," said Rabbi Krieger. "The fact that every child was entitled to receive basic education and training from a young age was like a privilege for the children of the ghetto.
"This 16-year-old boy, who at his age should have been nearing the end of his studies and preparing for his matriculation exams, felt lucky that he had the chance to get an official training certificate, which eventually made him another pair of helpful hands at the textile factory."
The Shem Olam Institute believes that the boy and his entire family probably perished in the Holocaust, and hopes to now down track any surviving relatives.