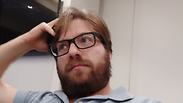 The right-wing has never had any solution to the Palestinian issue
Opinion: Almost a decade before the Six-Day War erupted, a naïve high schooler wondered what Israel would do with millions of Arabs it would potentially annex into its midst; Begin had no answer then and his political successors have no answer today
When an historian goes diving into an archive, he or she can find a lot of dull, boring documents.
These documents weren't written by anyone of renown, don't contain any details or information that weren't readily available and didn't start any monumental and important chain of events. But sometimes, as history unfolds, we find so-called unimportant documents can tell an interesting story about our reality, both then and now.
One such letter was sent by high schooler Yitzhak Grunwald to the secretary of the Herut movement - the predecessor of today's Likud party.
In 1959, Grunwald was a teenager with a fondness for right-wing politics. Apparently, he liked to argue with his classmates over what steps should Israel take, but during these arguments there was always a question that he could not answer - so he asked Herut leader Menachem Begin.
One must remember that this was in 1959, when the borders of our 11-year-old country didn't include the occupied territories. Yet the Herut movement had not abandoned its aspirations for a Greater Israel, or even of occupation of the territories beyond the Jordan River. And herein lay Grunwald's problem: "The territories we want to occupy are home to people we can't hope to make Israeli citizens… Or can we? I want to know, what will we do with the couple of millions who inhabit these territories?"
Grunwald asked for a comprehensive answer, but all the response he got was from a Herut spokesman who sent him a pre-printed speech by Begin, the man who would go on to become Israel's first Likud prime minister.
In fact, the speech that Grunwald received was to be presented as Herut's political platform for the upcoming elections and did actually specify Israel's right to expand its borders.
Even so, it was at best vague on actual details, such as what to actually do with the people who already lived on these coveted pieces of land.
More on this topic
He put aside his personal row with Ben-Gurion for the good of the country, saw his greatest achievement as bombing the Iraqi reactor, and made Middle East-changing peace with Egypt; remembering Israel's first Likud prime minister
If one reads the document closely, Begin does hint at the possibility of peace with the entire Arab world and granting citizenship to those linving on the land Israel sought to own.
In another part of the speech, Begin also claims that a government under his rule would strive for a better relationship with Israel's Arab population than Labor forerunner Mapai ever had.
And yet, when he was elected as prime minister in 1977 and Israel already had control of the West Bank and Gaza Strip, Begin supported the option of granting citizenship rights to the Palestinians as part of an autonomy plan for the West Bank. That plan seemed to vanish during his tenure as prime minister, however.
A few interesting points can be made about the Herut letter.
Firstly, it's interesting to see that although the right likes to maintain that the Palestinian disdain for Israel has nothing to do with the 1967 occupation, the letter shows an unwillingness to compromise is also embedded in Zionism independently of Palestinian stubbornness.
Today, this uncompromising side of Zionism represents the majority of the most vocal Zionists.
Another noteworthy point is that Grunwald didn't raise the point of citizenship for nothing. He knew that no good could come out of labeling an entire population as "subjects" and giving them lesser rights with no real freedom.
Furthermore, while it's not surprising that in Begin's vision for Greater Israel, the idea of equality and citizenship for all people under its sovereignty was a guiding principle. Whereas today, every vision the right wing has, from taking over Area C to "encouraging immigration" more or less leaves the Palestinians with two options - live as subjects or as refugees.
As such it's not surprising, given these two choices, the majority of Palestinians prefer resistance.
Sixty years after Grunwald wrote his letter, the problem with the right that the teen naively revealed has yet to be resolved, despite its power and popularity.
Dr. Arnon Degani is is a postdoctoral fellow at the Ben-Gurion Institute for the Study of Israel and Zionism at Ben-Gurion University of the Negev. With gratitude to the archivists at the Jabotinsky Institute