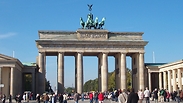 Brandenburg Gate, Berlin (Photo: Danny Sadeh)
Photo: Dani Sadeh
Prenzlauer Berg, an upscale liberal quarter in Berlin, has a Saturday market that offers fresh produce, food stalls, flowers, fish and champagne. This is not just a market to buy from also rather a place to go if you want to be seen.
For the past 18 years, Mahmoud has kept his falafel stall in a corner of the market. He is a native of Germany whose parents were Palestinians. Mahmoud does not like Jews or Israelis. He charges them a special price for his food. He also directs profanities at them and spits on them as they walk by.
One Saturday, he yelled at a Jewish passer-by: "Too bad Hitler didn't finish you off." The Germans in the market kept drinking their champagne.
When I found myself on the receiving end of the falafel seller's abuse, I went to the market manager to complain.
The man calmly explained to me that Mahmoud was a great guy with just one small problem - Jews drive him crazy. He told me that Mahmoud had once been suspended from the market for a month.
The second time Mahmoud yelled at me as I entered the market was a year ago, as attacks against Jews in Germany had reached a new peak. So I decided not to keep silent and protest against the German treatment of Jews.
For 10 weeks we stood by the market carrying signs. Although we had a license to demonstrate, the police pushed us back, twice. One time I was arrested.
Four Germans shouted at me to go back home. Some wanted to engage in conversation about the terrible policies of Israel. We declined.
A few looked sympathetically at our signs, but most kept drinking their champagne.
The German press coverage of the demonstration described Palestinian and Israeli wrestlers facing each other where we poor Germans were hosting them.
But this narrative should not be believed.
Mahmoud is shouting profanities at Jews because the German government, by its silence, is allowing him to.
The Saturday market in Prenzlauer Berg is not even an extreme example of the treatment of Jews in Berlin.
Berlin's Jewish Museum director resigned after having given use of the building to BDS activists, who advocate the boycott of Israel.
Munich's Jewish Museum director hosted an exhibit calling the Negev Desert a settlement and accused the Jewish National Fund of war crimes.
Both museums are Jewish in name only and are funded by the German government.
As they abuse their titles, they use their reputation to spread hatred against Israel.
Israelis coming to Berlin are quick to understand that they must adopt a certain state of mind to be accepted into German society's mainstream.
One aspect of it is to viciously and attack Israel regardless of events.
Young Germans are tired of the inherited guilt of the Holocaust. They are so obsessed by it that they fail to understand that only by accepting their responsibility will they be rid of it.