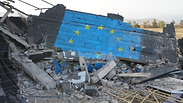 The demolished memorial
Photo: PixelHELPER
Moroccan authorities tore down a memorial on the outskirts of one of country's biggest cities after protesters claimed it was normalizing relations with Israel.
The memorial in the town of Ait Faska near Marrakesh was erected by German non-profit organization, PixelHelper - which fights social grievances through art - to commemorate the victims of the Holocaust and members of the LGBT community persecuted and murdered during World War II.
The reports on the construction of the monument on Moroccan media stirred incandescent criticism by activists against normalization with Israel.
Following the criticism, Moroccan authorities demolished the monument, using bulldozers and causing heavy damage to the site.
Authorities justified the demolition of the site that was already one year into construction, claiming that the memorial's construction was not authorized.
The German organization condemned the actions of the local authorities and claimed that there had been efforts to set up a meeting with the authorized local officials, but all attempts were unsuccessful.
PixelHelper claim that the bulldozer sent to the site caused severe damage to artworks placed at the memorial and destroyed water and electricity infrastructure.
"If you consider that we have worked here over 365 days with 10 employees we have incurred damages of about €100,000," said the NGO.
This was supposed to be the first memorial to the victims of the Holocaust that was erected on Moroccan soil and the German organization says it was supposed to improve relations between Islamic countries and Jews.
PixelHelper called on its followers to donate money to rebuild the monument.