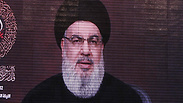 Hassan Nasrallah speaking in Beirut
Photo: AFP
Hezbollah Secretary-General Hassan Nasrallah spoke mainly to his home crowd in a victory speech Monday night, a day after a brief clash with Israeli troops that saw the Lebanese group launch anti-tank missiles at an IDF base near the border and the IDF reply with massive artillery fire.
Nasrallah was also speaking to all Lebanese factions who have been critical of Hezbollah's reckless behavior, which it says could have dragged Lebanon into another costly war without consulting its government or any consideration of its impact.
I was reminded of my trip to Lebanon just days after the end of the 2006 Second Lebanon War.
I visited the streets of the predominately Shi'ite Dahiyeh district of Beirut - a Hezbollah stronghold - as well as the destroyed villages in the south of the country, battered by Israeli bombing, where giant signs with the words "Victory is from God" were everywhere.
Thirteen years ago, Nasrallah claimed victory although both he and Lebanon suffered severely.
Now, during this latest speech his followers bore the same signs - "Victory is from God" - as he tried to create an alternative narrative that would justify his recent actions and the haste in which they were carried out.
His tone was not inflammatory, he clung to some facts but only emphasized those that were advantageous to him in order to instill a victorious narrative in his listeners. He glossed over the fact the attack on Israel failed to reach its goals.
He highlighted that Israeli troops were put on high alert at considerable cost to the military and that an IDF base on the border had been abandoned, but ignored his organization's failure to inflict any Israeli casualties or substantial damage.
Nasrallah said that he was defining new "red lines" for Israel: From now on his forces would no longer be restricted when retaliating to Israeli aggression on Lebanese soil – referring to the Shebaa Farms, a disputed area where the borders of the Israeli Golan Heights, Lebanon and Syria meet and which is currently controlled by Israel.
Hezbollah will now take the fight to the "Palestinian occupied territories" he said, referring to Israel.
From this point on, bragged Nasrallah, his forces would retaliate by attacking any target along the Israeli border, even reaching up to seven kilometers into Israeli territory, if not further.
He hinted he would not hesitate to deploy weapons more sophisticated than the anti-tank missiles used in Sunday's attack should the enemy strike in Lebanon and injure Lebanese citizens.
Nasrallah's second threat directed at Israel was that the group would shoot down any Israeli drones in Lebanese skies, whether gathering intelligence or attacking targets.
The threat did not include helicopters or manned aircraft, and it is unclear whether Hezbollah actually possesses the means to carry out the threat, but observers are wondering if he has some surprise in store with the help of its benefactor Iran.
If in fact the Iran-backed terror group can compromise Israeli drones operating over Lebanon, it could affect Israeli action against the ongoing precision missiles project.
The threats made to Israel were a promise to his Lebanese followers that any violation of their territory in order to combat the missile project will be answered with force.
Nasrallah is usually not one to make idle threats, so unless he has chosen a different path, perhaps because he failed in his retaliatory strike against Israel, this could mean he has a trick up his sleeve, courtesy of some new Iranian capability.