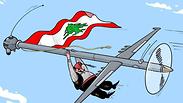 A cartoon in the Lebanese media depicting Lebanon being carried along by a Hezbollah drone
Criticism is growing in Lebanon over the actions of Hezbollah, the Iran-backed terror group that this week attacked an Israeli military base resulting in massive artillery fire in response.
While media outlets associated with Hezbollah were quick to report Sunday's border incident - in which Hezbollah fired anti-tank missiles at troops over the border - as a victory for Lebanon, a different position began to appear both in the mainstream media and on social media.
Criticism of the group, its leader and its Iranian benefactors have appeared with increasing frequency.
Former prime minister Fouad Siniora, who led the country during the 2006 war between Israel and Hezbollah, told Sky News Arabic that the Shi'ite group was entangling Lebanon in a mess and that his country needed a defense strategy.
"It is inconceivable that Hezbollah would launch such an operation," he said.
Meanwhile, a member of parliament from Lebanese Prime Minister Saad Hariri's Future Movement party, said the Beirut government alone - and not Hezbollah - must make decisions on the country's defense policies.
Another parliamentarian accused Iran of "pulling the strings" and deciding for Lebanon when and where such escalations would take place.
"The decision to go to war is unfortunately in the hands of Hezbollah," he said.
Hariri's current coalition government includes Hezbollah, which made significant gains in last year's parliamentary elections while Hariri's bloc lost a third of its seats.
The group now holds two ministries and a ministry of state, including for the first time the Ministry of Health, which has one of the country's largest budgets. The Finance Ministry remains in the hands of a Hezbollah ally, Ali Hassan Khalil.