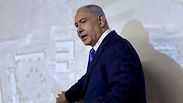 Prime MInister Benjamin Netanyahu reveals a secret nuclear site in Iran
Netanyahu revelations could be the smoking gun proving Iran's ongoing nuclear weapons program
Analysis: If Israel's assertions about the Abadeh installation's true purpose were verified, they would be the smoking gun that would finally prove Iran is developing a nuclear weapon in complete violation of the treaties it had signed
Prime Minister Benjamin Netanyahu's bomb shell revelation Monday of another Iranian nuclear site that was operational as late as three months ago is big news aimed at the international community.

Even so, Israel's intelligence services will have to provide more information proving Iran had, or had at least planned to develop nuclear weapons at the Abadeh installation.

Satellite images of the installation before and after it was uncovered by Israel will not be sufficient to sway EU leaders or the Russians and Chinese, who are signatories of the 2015 nuclear deal with Iran. It will not even be enough to convince the Trump administration.

The International Atomic Energy Agency (IAEA) will not examine Israel's claims based on aerial photography alone. The Iranians will - as always - deny the claims and the IAEA inspectors will need more information in order to proceed.

But if more proof is supplied, IAEA inspectors will be able to launch an investigation that may prove embarrassing for Iran, because it will show they have not only violated the nuclear deal (aka the Joint Comprehensive Plan of Action or JCPOA), but also the nuclear Non-Proliferation Treaty.

Netanyahu's revelations are grave because of Iran's consistent claims that their uranium enrichment is for civilian purposes while denying it is developing nuclear weapons.

The IAEA and the signatories of the JCPOA had accepted this claim in order to get Iran to sign an agreement that will stop it from enriching uranium and plutonium (needed for the production of nuclear bombs), had agreed to restrict the agreement to "possible military applications" of the Iranian nuclear program.

If Israel's assertions about the Abadeh installation's true purpose were verified, they would be the smoking gun that would finally prove Iran is developing a nuclear weapon in complete violation of the treaties it has signed.

Israel had provided proof in the past that such weapons were being developed, and even showed Iran's plans to produce a nuclear warhead for its missiles, but that referred to the period ending in 2005.

Netanyahu's revelations would show Iran is consistently violating both the 2015 deal and the non-proliferation agreement.

Past experience has shown Israeli claims have not changed the position of the European signatories or Russia and China.

If IAEA inspectors do decide to use their prerogative to hold a surprise inspection of the Abadeh site it may find radioactive residue similar to that found in the "carpet factory" in Turquzabad, which Israel referred them to in December of last year.

Revealing the existence of the installation in Abadeh is a risky move on the part of the prime minister, because if his claims are not validated, it could be used to portray him as propagating fake news at a time when the presidents of the United States and Iran are reportedly set to begin talks.

Israel's findings were given to both American Secretary of Defense Mark Esper and British Prime Minister Boris Johnson during Netanyahu's meetings in London last week.

This could be seen as an Israeli effort to hamper any possible negotiation talks between Donald Trump and Hassan Rouhani, who could be meeting as soon as the end of this month at the UN General Assembly.

If the American president persists in his intentions to start negotiations with the Iranians, the new revelations may be the proof Netanyahu needs to show Trump that Tehran has been lying all along and that the current administration should not make the same mistakes Barack Obama made by letting the ayatollahs lead him on.

Another reason for Monday's announcement revealing the Abadeh site is Israel's desire to prevent the Europeans and disrupt the Chinese from helping Iran overcome U.S. imposed sanctions that have been hard felt in Tehran.

If Iran has been lying and continues to lie while violating agreements it had signed, the EU would have to take steps to punish the Islamic Republic.

There is no doubt that the Israeli elections, just one week away, played a part in Netanyahu's decision to announce his governments' intelligence findings.

The prime minister has an internal challenge to change the conversation to Iran and away from the daily leaks from interrogations into his corrupt behavior.

One can only hope that intelligence was not used to further Netanyahu's re-election chances, as his political rivals have claimed.