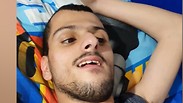 Nissim Meir Arieli
Photo: courtesy of the family
Family of cerebal palsy sufferer show positive impact of cannabis
Footage shows 23-year-old Nissim Meir Arieli going from shouting in pain and lashing out during a seizure to lying calming in his bed just moments after receiving cannabis oil; 'I want people to know this is a medicine that works,' says his sister
The family of a young cerebal palsy suffer have uploaded a video of his behavior before and after receiving cannabis, to show how much of a positive impact it has on him.
Nissim Meir Arieli, aged 23, suffers from a severe form of the disease. He has been treated with medicinal cannabis for the past year, which his familty says has helped him greatly while other medication has failed to do so.
Last week, Nissim's sister Renana uploaded a video on social media showing the significant impact cannabis oil has on her brother.
The video starts with the young man scratching and biting himself in the midst of a seizure and then cuts to him lying calmly on his bed after being administered cannabis oil.
Nissim's mother, Racheli Arieli, told Ynet that her son was born in the 26th week of pregnancy as a twin.
"As a result of oxygen deficiency to the brain at birth, he suffered from hydrocephalus, a condition in which water build up in the brain and cause seizures," she says.
"He has also suffered very severe muscle pains in recent years. Once his muscles contract, he screams in pain. I see a big shift in his behavior since we started treating him with cannabis. He starts to talk and communicate with us."
Nissim's sister Renana says that cannabis helps relieve some of the pain her brother feels.
"My brother has ... muscle spasms and epileptic seizures, during which he screams until someone gives him cannabis. He usually beats and scratches himself and anyone who comes near him because he is in such great pain," she says.
"He bangs his head against the wall, bites himself and hits others. He received medication to stabilize his mood that didn't help. A year ago, he started receiving cannabis and he has been feeling better ever since."
Renana says that the family struggles to obtain the cannabis oil for Nissim.
"I want people to know this is a medicine that works," she says.
"The Health Mnistry looks down on cannabis," says Arieli. "The state cannot leave us to die. It is important for people to know that there is a medicine that helps, and the government simply takes it away.
"We calculate every single drop of cannabis oil that we give my brother during a seizure, so that he will have enough until the end of the month.
"We also want to increase the level of THC (psychoactive ingredient in cannabis), but we have to go through a whole slew of doctors to get this approved," she says.
"I uploaded the video to social media to raise awareness. There are people who call cannabis a drug, but it is medicine for my brother, and this is what calms him down. He calms down within two minutes of us administering the oil."