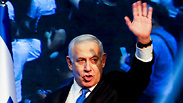 Prime Minister Benjamin Netanyahu
Photo: Reuters
Netanyahu, Liberman, Litzman and Gantz owe Israel an apology
Opinion: Politicians must beg forgiveness for the hate and intolerance they have spread during this election season; but at this time of year - a time of penitence and prayers leading up to the Jewish High Holidays - we all should reflect on our behavior to one another
Benajmin Netanyahu, members of Likud, it is now time for you to apologize.

Apologize to more than 50% of the voters whom you branded traitors and fools.




Apologize to the Israeli Arab citizens for your blatant lies, your insults, your racism.

Mr. Gantz, Mr. Lapid and certainly Mr. Liberman – you must apologize to the ultra-Orthodox community, the religious and observant Jews.

Go to Bnei Brak. Go quickly and ask for forgiveness for being hoist with your own petard. There is no such thing as secular unity. That is an oxymoron.

Nitzan Horowitz, Stav Shafir and Ehud Barak of the Democratic Union, you must go to the settlement of Yitzhar, the community which houses the most kidney doners in Israel. Look those people in the eye and beg to be forgiven for demonizing them.

Go around to their youth center and their kindergartens and say you are sorry.

Aryeh Deri and Yaakov Litzman, tell your rabbis and your spiritual leaders, to ask the forgiveness of the non-religious Israelis.

Those living in Tel Aviv, those you said were gunning for you, those you called Nazis, those you said would forcibly conscript your daughters into the military. You knew very well that you were lying.

We still don't know what the newly elected Knesset will look like, but nearly all its candidates lied, smeared, humiliated, insulted, and generally polluted the air with their filth. All in the service of seats.

You pitted us against each other and now we demand your apology.

Ask our forgiveness for tearing this country apart, for leaving us to clean up the mess you have created.

And promise that there will not be a third round of elections.

We will not do this for you again.

We will not ask you to stand up and declare your beliefs and policies – again.

The people have spoken and though our answer is complicated, hard to accept, and messed up, you must deal with it. That is your job.

You will not drag us through the mud anymore nor will you turn our democratic celebration into a battlefield.

At this time of penitential poems and prayers leading up to the High Holidays, we must all reflect on our behavior.

Instead of pointing out how others were wrong, we must take responsibility and see where we have failed.

Did we cooperate in this needless witch hunt?

But we must also find it within ourselves to forgive, make allowances and grant a second chance.

We are all here to stay and must learn to trust, to believe those who can offer us a chance to heal and to unite.

We don't need fake unity, we need the real deal. The kind of unity that can survive disagreements, differences of opinion and endless debate, as long as we show each other the minimum of respect.

We all must seek forgiveness, but we must also be assured there will be no third round of elections.