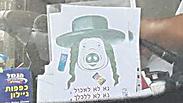 A no-litter sign depicting an ultra-Orthodox man as a pig was spotted on a bus in Modi'in Illit Thursday morning.

The sign, asking passengers not to eat on the bus or litter, was probably hung by the bus driver and spotted on line 881 by a local woman, who took a photo of the sign and sent it to Honenu – a legal aid organization providing legal assistance to soldiers and civilians facing prosecution by the state, often for alleged crimes against Arabs and Palestinians.

Honenu representative Menashe Yaddo sent an urgent letter to the Deputy Commissioner of Police demanding an investigation into what he called an "anti-Semitic advertisement".

"The sign depicts an ultra-Orthodox figure with pig's face, pig's nose, pig's jaw structure and pig's behavior," wrote Yaddo. "This sign carries a clear racist message against the ultra-Orthodox public. This portrait of the ultra-Orthodox Jews is the same portrait that has carried European antisemitism for centuries".

Yaddo also called for bus operator Kavim, on whose bus the sign was hung, to act against such incidents.

"Kavim cannot let messages like this to be presented on its buses," said Yaddo. "This anti-Semitic message, when shown on a public vehicle, might seem as if it a part of the common public morality".

Bus operator Kavim released a message conveying the company's shock in light of the incident and promising to act against the bus driver.

"The company was shocked at the sight of the pictures brought to its attention by the media," read the statement. "We express disgust at the any manifestations of racism and condemn them. The bus driver will be summoned for a hearing before dismissal".