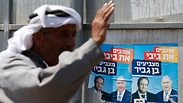 Election posters in Hebron
Photo: AFP
To the Palestinians, Gantz and Netanyahu are Coke and Pepsi
Analysis: Palestinians say unity government would not change much with respect to them as both party leaders agree on key issues, such as annexing Jordan Valley; Palestinian PM compares the two Israeli leaders to choice between rival soft drinks
The last decade has brought peace talks between Israel and the Palestinians to an almost total halt, pushing aside the Palestinian issue to the fringes of Israeli and international discourse, and even the Arab discourse partially.

However, this dead end and post-election deadlock have left the Palestinians bewildered and made them publish some interesting and entertaining estimates on the composition of the next Israeli government and the identity of the person standing at the helm.

The first to express his opinion on the issue was Palestinian Prime Minister Mohammad Shtayyeh, who raised an interesting comparison at a conference in Ramallah.

"Honestly, the difference between (Blue and White leader Benny) Gantz and (Prime Minister Benjamin) Netanyahu isn't bigger than the difference between Pepsi Cola and Coca Cola," said Shtayyeh, and received a round of applause from the laughing audience.

The Palestinian publicist Ashraf al-Ajrami tried to paint possible scenarios for forming an Israeli government.

"A unity government will continue with its current policy, but without extreme initiatives, such as annexing the Jordan Valley," said al-Ajrami. "It may turn to partial steps, but anyway, this government will be tough for the Palestinians.

"It is not going to improve the situation and will not take back whatever happened during the Netanyahu tenure, but will go for a diplomatic impasse."

The public discourse on the Palestinian street is a lot more pessimistic, with many seeing Gantz as a carbon copy of Netanyahu, but these assumptions may stem from the fact that Gantz is not a well-known figure in Palestinian society.

Hamas unsurprisingly made it clear shortly after the elections that every Israeli government will be bad for the Palestinians, so it doesn't matter who stands at the helm.

"The elections in Israel do not interest the Palestinians, all the Israeli governments are identical to each other," said Hamas spokesman Abd al-Latif al-Qanua.

There are speculations in Ramallah that Hamas clearly favors Netanyahu's continued tenure, who is already holding talks with the organization in Gaza.

Publicly, Hamas is trying to form a uniform opinion, as reflected by messages on the organization's Al-Aqsa television channel.

"Whether the Netanyahu-led right or the Gantz-led left wins, the situation will remain the same for the Palestinians," Al-Aqsa reported. "Former experience shows that the election results mean more terror and Zionist hostility, which increases the need for Palestinians to stay alert and fight off these challenges".

Fatah encouraged Arab voters on Election Day through their social media accounts to vote for the predominantly Arab Joint List. Shortly thereafter, senior government officials shrugged off accusations of meddling in Israeli elections.

Only ones to stand behind their calls to vote for the Joint List, despite slings and arrows targeted at them, were the Palestinian communist Democratic Front, who claimed that a high voter turnout among Israeli Arabs is intended to oppose and challenge the Netanyahu government."