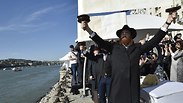 Celebrating on the Danube River
Photo: EMIH
Seventy-five years after tens of thousands of Jews were murdered in the Holocaust on the shore of the Danube river in Hungary, 2,000 people last week celebrated on the very same shore, marking the opening of two new Hungarian synagogues in a display of triumph of Hungary's Jewish community over the Nazis.
With the celebrations and the introduction of two Torah scrolls into the two synagogues, there are now eight synagogues in Hungary operated by Chabad, and 17 community rabbis, signifying the growth of the Jewish community in Hungary.
The Danube River is huge, crossing the entirety of Hungary, and so the two synagogues are in two different cities, yet both sit on the shores of the great waterway.
The first synagogue is in the very heart of Budapest, near the Parliament building, is an area that is home to quite a few young Jewish families.
Celebration of a synagogue opening in Hungary (קרדיט: EMIH)
The second is located in the artist town of Szentendre, about 20 kilometers north of the capital city, and is a popular destination for tourists.
Taking part in the celebrations were Deputy Prime Minister Zsolt Semjén, Hungarian MP and Holocaust survivor János Fónagy, Rabbi Shlomo Kovesh of Hungarian Jewish Federation, Budapest Rabbi Baruch Oberlander, and a representative of Israel's Rabbinate, Rabbi Eliezer Simcha Weiss.
"According to the laws of nature, water represents life," Rabbi Kovesh said, "but 75 years ago, in 1944, tens of thousands of Jews were murdered on the shore of the Danube, and so, these waters represented nothing but death to the Jews of Hungary until today. We are here to put things right."
The rabbi added: "The opening of these two synagogues on the shore of the Danube signifies the Jewish community's life and survival after the horrors of the Holocaust."
Hungarian MP János Fónagy admitted he doesn't remember anything of his life during the World War II, but said it was no less important to look to the future. "The Torah of the Jewish people is the center of our strength, and it signifies life itself," he said.
"We must act to pass the legacy and teachings of the Torah and Jewish people to future generations."