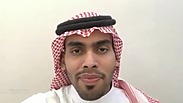 Saudi blogger Mohammed Saud tweeted Friday a video of himself singing a piyyut (Jewish liturgical poem), just days before the Rosh Hashanah – the Jewish New Year.
Saud, an avid fan of Israel, tweeted a video of himself singing the Ashkenazi piyyut "Ochila Lael" by Rabbi Hilel Palay, which is sang during the High Holy Days.
The caption says in Hebrew "Our Ashkenazi brethren, this is especially for you, Rosh Hshanah is coming Judgment day".
The day before, He tweeted a video of himself singing the piyyut "Agadlecha" by Rabbi Avraham Ibn Ezra, which is sang mostly by Sephardic Jews.
He added a caption in Hebrew saying, "Rosh Hashanah is coming, the Day of Judgment" and a video of himself in saying in English that he "loves to sing in Hebrew and that is his favorite song".
Saud arrived in Israel last July with a delegation of bloggers and journalists from countries that have no diplomatic ties with Israel, such as Saudi Arabia and Iraq.
When visiting the Temple Mount in Jerusalem, the Saudi blogger was attacked with plastic chairs being thrown at him and derisive cries.
The 27-year-old Saud first began first started gaining attention last May, when he uploaded a tweet calling for coexistence and longing for peace between Saudi Arabia and Israel.
Since then, his fanbase has expanded, reaching thousands of followers online.
Saud is a supporter of Prime Minister Benjamin Netanyahu and retweets posts related to Israel.