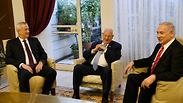 L-R: Benny Gantz, Reuven Rivlin and Benjamin Netanyahu
Photo: Amos Ben Gershom
Negotiations for a unity government, covert talks between party leaders, cooperation talks between political rivals, all of these were always a part of the Israeli political system.

Since the days of Shimon Peres and Yitzhak Shamir, there has been talks of unity between Likud and Alignment (the Labor party's predecessor), Likud and Labor, Likud and the Zionist Union, and once again, Likud and Labor.

But there were never talks of unity between a political party and a whole political bloc.

In fact, there's no feasible way to form a unity government when one side arrives at the negotiating table as a party while the other is accompanied by a whole political bloc that runs from the ultra-Orthodox all the way to the Likud.

The components of a unity government are supposed to meet on common central and moderate ground, so the majority of the population can agree with its agenda.

When Prime Minister Benjamin Netanyahu arrives to unity talks with the whole right-wing bloc in his pocket, it's testimony to his lack of basic decency.

And so Netanyahu needs to choose - real, viable negotiations or another round of elections. And it seems we're heading for another round of elections.

On Sunday, the eve of the Jewish New Year, the negotiating teams of Likud and Blue and White met - and the end result was clear to everyone beforehand.

There are no real practical moves being taken to ensure the unity of the two parties - it's all talk.

The truth is, there's no real will on either side to form a coalition.

It's so obviously all spin, games and transparent manipulations at the level of preschool children.

Netanyahu believes that if he leads Israel to another round of elections, he'll gain a few more precious months as prime minister during the most critical time of his legal and political life.

Blue and White isn't overly excited to form a government with Netanyahu either. For while is unable to act as premier, he will still manage his legal affairs from the prime minister's official residence in Jerusalem.

If it were solely up to Gantz, we might actually have had two prime ministers. But Gantz is in the minority and his no. 2 in Blue and White, Yair Lapid, is busy waging a silent (for now at least) war inside the party against a unity government while Netanyahu is still Likud leader.

Gantz's other political partners and fellow former IDF chiefs, Moshe Ya'alon and Gabi Ashkenazi, also don't believe anything will work out while Netanyahu is still around.

The current situation dictates a unity government, it's time to calm the political system and the public.

The country is exhausted, bruised and hurting from two crazy rounds of elections.

But the bad news is, it looks like we're hurtling to another one, and there is no one there to save us.