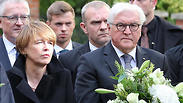 German President Steinmeier and his wife Elke Büdenbender at the scene of the synagogue shooting
'We must protect Jewish life,' says German president at scene of synagogue attack
Steinmeier urges Germans to stand together during visit to site of Yom Kippur shooting that killed two people; Merkel says 'hatred, racism and antisemitism have no place in our country' and calls on state to use all available means to act against hatred
HALLE, Germany - Germans need to stand together against extremist violence and protect Jewish life, President Frank-Walter Steinmeier said on Thursday after visiting a synagogue where a gunman began an attack a day earlier in which he killed two people.

"Today is a day of shame and disgrace," Steinmeier said outside the synagogue in the eastern German city of Halle.

"I'm very sure the overwhelming majority of this society in Germany wants Jewish life to be part of this country ... We must stand together long-term against violence like we experienced here yesterday. We must protect Jewish life."

Steinmeier's message was echoed by Chancellor Angela Merkel who said Thursday that she was shocked by the shooting and stressed that there was no room for antisemitism in German society.

"Hatred, racism and antisemitism have no place in our country," Merkel said, adding that the state needed to use all available means to take action against hatred.

Though the gunman did not get into the building in Wednesday's attack, he killed two bystanders in a subsequent live-streamed rampage, which appeared to be modelled on last year's gun attack on a New Zealand mosque.

In a video of more than 30 minutes that the attacker livestreamed from a helmet camera, the perpetrator was heard cursing his failure to enter the synagogue in the eastern German city of Halle before shooting dead a woman passer-by in the street and a man inside a nearby kebab restaurant.

A spokeswoman for the Halle municipal government said one shooting took place in front of the synagogue on Humboldt Street and its accompanying cemetery, while a second burst of gunfire targeted the kebab shop in the city in the province of Saxony.

Max Privorozki, Halle's Jewish community chairman, described how a gunman tried to shoot his way into the city's synagogue.

"We saw via the camera system at our synagogue that a heavily-armed perpetrator with a steel helmet and a gun tried to shoot open our doors," he told the Stuttgarter Zeitung newspaper. "The man looked like he was from the special forces...But our doors held.

"We barricaded the doors from inside and waited for the police," he said, adding that about 70-80 people were inside the Humboldt Street synagogue at the time.