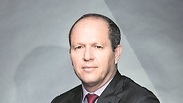 Nir Barkat
Photo: Gabriel Baharlia
The former mayor of Jerusalem Nir Barkat has for the first time declared himself as the heir to the Likud leadership when Benjamin Netanyahu ends his political life, and intends to run for prime minister as party leader.
"The day the Netanyahu era ends, I will present myself as a candidate for the leadership of the party and the premiership," the Likud MK says, asserting that he can see off potential rivals such as Gideon Sa'ar, long believed to have his own ambitions for the leadership .
Will you beat Gideon Sa'ar?
NB: Yes. In a race, I know I'll succeed and finish in first place.
What's your advantage over him?
NB: I'm an international man, I'm great at doing business.
I'm very close with the Americans and the wider world in general. Knowing how to talk with world leaders, the same way Netanyahu does today is a tough challenge.
Knowing how the world works is a strategic advantage. I'm an entrepreneur by heart, it's a born gift. You can't learn it anywhere.
Do Gideon Sa'ar or Israel Katz not have any entrepreneurial thoughts?
NB: Really? What businesses have they run? What worldly wealth have they made? With all due respect, I don't think that they or anyone else at the head of the party have the advantage of business-like thinking.
Nonetheless, this is a brave statement.
NB: Bravery has nothing to do with it. In times of crisis, the leadership must be supported. I think this concept of it 'being brave' is a false one.
And if Sa'ar runs, would you bow out and lose your opportunity?
NB: I would never run against Netanyahu, no matter the cost. I hope he remains in power for a long time. In due time, when he decides to retire, I will be the next prime minister.
Can a high-tech millionaire with an estimated net worth of half a billion shekels be head of a party whose whole agenda is social issues?
NB: If anything, the economical comfort is a huge advantage. I don't need anyone. There isn't one idiot of the face of the earth who could try to bribe me.
During my ten-year tenure as mayor of Jerusalem, I was paid a shekel a year, same as my pay as an MK today. I'm not looking for any benefits. I'm coming in as a blank slate, looking to see how I could make this nation better.
Regarding the current corruption allegations against Netanyahu, Barkat is unassailable in his support for the prime minister.
"The anti-Netanyahu camp is trying to convince the people of Israel that all of their problems are because of Netanyahu and he should be sent packing," he says.
"I vehemently reject this attempt to decide who should lead the ruling party. The Likud constituents have a healthy DNA that allows them to support their leader. It's an asset. Including the fact that by law, until found guilty, Netanyahu can remain prime minister. It is a moral action to support Netanyahu."
On a practical level, how can a prime minister dedicate his time to leading the nation while he's dealing with criminal allegations?
NB: I trust him to find the time for both.
Would you hire a man with three criminal cases against him to be a board member at your company?
NB: Netanyahu is functioning perfectly, despite the legal challenges. While the attorney general was leading his hearings, I saw him running the country.
But despite the confidence Barkat projects, sources in the Likud party find it hard to see him prevailing over more veteran members within the party for the premiership.
In the last Knesset elections, Barkat secured the 10th spot on the Likud list, while Sa'ar was placed sixth and Foreign Minister Israel Katz and Public Security Minister Gilad Erdan won the third and fourth places, respectively.
"The idea Barkat would defeat veteran rivals like Sa'ar, Katz or (Public Security Minister Gilad) Erdan is unfeasable at best, and boasting at worst," the sources say.
"The hold that the upper echelons of the party has on (the Likud base) is far more significant than his, despite the millions he has spent on meetings with members of the Central Committee," they say.
But Barkat isn't intimidated.
"The results of the party primaries and the widespread support speak for themselves," he says. "This is how the next race will go."