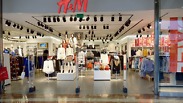 Swedish clothing brand H&M
Photo: Yariv Katz
Russian-German actress Palina Rojinski was subjected to an online backlash after she uploaded a post to Instagram promoting a joint venture with Swedish clothing brand H&M, using the recent anti-Semitic attack on a synagogue in Germany on Yom Kippur that left two people dead.

The post was published Saturday to draw attention for the company's new clothing collection, which pledged to donate all of the campaign's proceeds to organizations fighting racism and anti-Semitism.

"What happened in Halle and other places in our country is terrible," read Rojinski's post. "It seems inappropriate now to post an advertisement, but I chose to do so because this is something special - only today".

"It's about education and tolerance! The year 1989 had torn down walls and brought people together". The actress was referring to the 1989 fall of the Berlin Wall, which divided the German capital between East and West for 28 years.

"The NEUNZEHNHUNDERT89 (nineteen-hundred-89) Unisex Capsule Collection, which I I'm releasing with H&M, would like to celebrate this positive approach with you".

"H&M will donate all proceeds from this promotion, and you can decide which foundation you want to support. You can support either one of two foundations opposing mobbing, racism and anti-Semitism with whatever amount you decide, and you can even propose a third good cause".

Several users found the post to be a cynical use of the tragic event by Rojinski and H&M, and expressed their criticism in the post's comment section.

"Mentioning such a devastating event in the same breath as an advertisement is just abysmal. No matter how eloquently you may put it to work. Shame on you," read one of the comments.

Other users also claimed this post to be disingenuous due to the clothing brand's previous alleged misconduct.

"(H&M is) a company that not only engages in greenwashing but is also responsible for inhumane work conditions! It is therefore out of the question that this is a pure image campaign! You do not have to know all that, but in light of these events, this post is ignorant and disrespectful at this point," another user wrote.

Other users saw the post in a more positive light and praised H&M and Rojinski for political engagement.

"Super great thing! You're a great woman," wrote one of the users.

"It's cool when someone engages in politics," commented another user. "Both (racism and anti-Semitism) exist and not a single person in the entire world needs racism. Unfortunately, we are the problem".

Rojinski herself defended the post, responding to some of the negative talkbacks.

H&M has yet to comment on the issue.