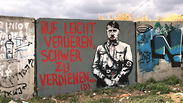 A graffiti depicting a bloodied Adolf Hitler on a wall next to the grave of Rabbi Nachman
Photo: Embassy of Israel in Ukraine
Ukrainian authorities on Tuesday arrested a suspect behind an anti-Semitic incident in which a graffiti depicting Adolf Hitler was sprayed on a wall next to the grave of the rabbi who founded a branch of Orthodox Judaism.
The graffiti daubed near the grave of Rabbi Nachman of Breslov in the town of Uman featured a portrait of a bloodied Hitler and a sentence in German reading: "Reputation is easy to lose and hard to earn".
The incident was highlighted up by Israel's Ambassador to Ukraine Joel Lion, who condemned the incident on Twitter last Friday.
The local authorities quickly took action, removing parts of the offensive graffiti within an hour of the ambassador's tweet.
Lion later posted another tweet praising the local authorities' speedy response.
Igor Shevchenko, the head of the Cherkasska province in which the town of Uman is located, condemned the incident, saying that manifestations of anti-Semitism had no place in Ukrainian democracy.
The incident took place on the eve of Sukkot, which closes the Jewish high holidays, commemorates the Jews' journey through the Sinai Desert after the exodus from Egypt.
The grave of Rabbi Nachman, or Nachman of Breslov, who founded the Breslov Hasidic movement in Judaism, is a major pilgrimage site on Rosh Hashanah for thousands of his followers from across the globe.