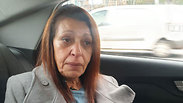 A mother fearing for her child
Photo: Noa Lavie
Over the last decade, there has been a dramatic deterioration in the status of the Ministry of Foreign Affairs.
Much of the high-ranking diplomats' authorities was appropriated in favor of people close to the Prime Minister Benjamin Netanyahu and various governmental security agencies, among them Mossad Director Yossi Cohen and head of the National Security Council, Meir Ben-Shabat.
The ministry's budget has dwindled over the years, due among other things to the fact the at the head of it isn't a dedicated minister but the prime minster, a fact hurting its functioning.
"They're killing us, suppress them completely, they have no budget and no moral", says former Maj. Gen. Amos Gilad.
Evidence of this sad state of affairs can be seen in the way the ministry is dealing with the case of Naama Issachar, the 26-year-old Israeli sentenced to 7.5 years in prison in Russia and she was caught with 9.5 grams of cannabis at a Moscow airport.
Although Naama's mother Yaffa says the ministry provided her with a great deal of assistance over the last few weeks in her efforts to secure her daughter's release, the days following her initial arrest were fraught with communication problems.
"I know the ministry and the minister are trying to help Naama, but we were left without answers for many months," says Yaffa.
"Deputy Minister Tzipi Hotovely knew about our story for months. Do you think she called us? Where's the deputy minister? So what if Netanyahu is the minister in charge? I can't call him directly, so I called her. Why didn't you help me when I requested it four-five months ago? Where were you? I cried and I begged, I went to you in Jerusalem and called you," she says.
The difficulties continued when Israel Katz took over as foreign minister.
"My brother for a whole week called about four different phone numbers saying, 'I want to meet the minister'. One of the clerks said that he couldn't meet him. No one called him back. Eventually one of his aides called back, saying that he couldn't help," Yaffa says.
The Ministry of Foreign Affairs said in response that its officials had been in constant touch with the Issachar family and contacted the Russian government regarding Naama's case.
"Since we became aware of Issachar's arrest in Moscow, the Israeli consulate has been in permanent communications with her and her family and given her consular-humanitarian assistance," the ministry said.
"The minister of foreign affairs instructed that inquiries be made to high-ranking officials in Russia. The minister has followed closely all the latest developments in the case and was unaware of a request by the family to meet with him."