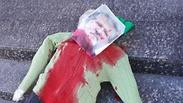 The effigy left outside Kiev synagogue
An effigy covered in red paint bearing an image of the president of the Jewish community in Ukraine, Igor Kolomoisky, was placed outside the historic Brodetsky synagogue in the center of the capital of Kiev.

Israeli Ambassador to Ukraine Joel Lion denounced the incident and called for the speedy detention of those behind the incident.

"Another disturbing case of anti-Semitism in Ukraine, this time on the steps of the central synagogue of Kiev," Lion said. "I hope law enforcement agencies arrest the culprits as fast as possible."

Lion attacked what he said was Ukraine's inaction in the fight against anti-Semitism.

"The state needs to do more, or else the violence will spread and people will get hurt," he said.

This is not the first instance of anti-Semitism in Ukraine in the last month.

Last weekend, unknown assailants sprayed graffiti depicting and praising Adolf Hitler near the burial site of Rabbi Nachman of Breslov in the city of Uman, in western Ukraine.

A month ago, monuments in memory of the 54,000 Holocaust victims of the city of Bogdanovka in southern Ukraine were desecrated.

Anti-Semitic writing and swastikas were sprayed and carved onto the stone monuments.

The culprits left a printed message at the scene, mentioning the Jewish president of Ukraine, Volodymyr Zelenskiy,and the director of the Ukrainian Jewish Committee, Eduard Dolinsky, which threatened: "Wake up, stop, the sale of Ukrainian soil will lead you to a second Holocaust."