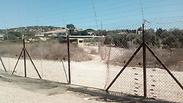 A breach in the fence in central Israel
Photo: Regional Council Menashe
The heads of local municipalities in the center and north are pleading with Prime Minister Benjamin Netanyahu to tackle a real threat to citizens living close to the West Bank security barrier after multiple gaps in the fence were found.
The request by the heads of seven local councils says: "We are disturbed and worried about a severe security breach in our communities and against our residents, given the number and scale of the breaches in the separation fence, with infuriatingly easy crossings receiving with no answer or response from the military."
Construction on the fence began in 2002 during the wave of deadly terror attacks of the Second Intifada. The barrier, which is made of concrete in some areas and wire fencing in others, runs along the border and into the West Bank to include settlements.
The local leaders stress that while the erection of the fence initially created a sense of security, the barrier has now lost its deterrence to the extent that it is failing to prevent terrorist attacks.
The letter cites an incident in August, when a terrorist crossed the fence at Kibbutz Magal and was caught on his way to carry out an attack in the nearby city of Hadera.
"We call upon you as prime minister and defense minister to act quickly to restore peace and security to the (West Bank) border towns," the local leaders say.
Menashe Regional Council head Ilan Sadeh said: "I remember in the early 2000s when we fought for the fence to be built. The fence was erected, millions were invested and we did feel much safer afterwards
"We demand that the government close the breaches in the fence. Deploy army units to patrol up and down as they used to to keep the people safe. Why was so much money invested in this fence - because of terrorist attacks," he said.
"Do they want them to return? We demand that this issue is dealt with quickly. If God forbid there were even one terrorist attack – we would immediately get all the budgets (we need). So why wait and not prevent it in advance," he said.