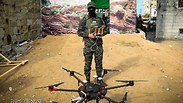 A Hamas fighter stands with a drone in Gaza
Israeli troops on Thursday identified and shot down an unmanned drone that entered Israeli territory near the Gaza border.
The IDF Spokesman's Unit confirmed the incident and said that there were no injuries or damage as a result of the event.
The drone was taken by the IDF for further examination.
This is not the first drone to be shot down by the IDF after entering Israel from Gaza, leading to concerns that this could become a new threat from the Hamas-run coastal enclave.
A month ago, a terrorist cell tried to attack an army patrol near the Gazan border using an explosive device attached to a drone.
There were no injuries, but damage was done to a military vehicle.
The IDF Spokesperson's Unit said at the time that the Israel Air Force attacked the cell believed had launched the drone from the southern part of the Gaza Strip.
Earlier this week, an IDF drone operating over Gaza was shot down near the southern city of Rafah.
The IDF said the incident was under investigation but there was no credible threat of an intelligence leak.