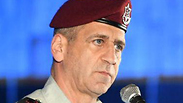 IDF Chief of Staff Aviv Kochavi
Photo: Yair Sagi
Israeli security forces unite to combat settlers who attack troops
Shin Bet, IDF and police agree on joint effort 'to counter this grave phenomenon' after soldier lightly hurt in overnight attack; Kochavi instructs security forces to track down perpetrators; Netanyahu: Zero tolerance for those who raise a hand against our soldiers
The branches of Israel's security forces will work together to counter extremist settlers who attack Israeli troops, the Israel Defense Forces said Sunday after an overnight incident in the West Bank that left one soldier wounded.
A group of some 30 settlers threw stones at an IDF patrol and slashed the tires on their vehicle during a 3am incident close to the settlement of Yitzhar in the northern West Bank.
The IDF Spokesman said that IDF Chief of Staff Aviv Kochavi, Shin Bet Director Nadav Argaman and Acting Israel Police Commissioner Motti Cohen took a joint decision "to focus efforts and cooperate in every way possible in order to counter this grave phenomenon," the army said.
"The IDF will work together with the Shin Bet and the police to quickly root out all those who violate law and order."
Kochavi and Prime Minister Benjamin Netanyahu condemned the attack earlier Sunday.
Kochavi ordered security forces to track down those involved in the attack so that they can face the law, calling the incident and similar events this week as "delinquent" behavior.
"It is inconceivable that IDF soldiers who work night and day to defend the settlers are attacked by those they protect," he said.
Netanyahu also warned there would be "zero tolerance" for anyone attacking soldiers.
"I strongly condemn any attack on IDF troops," he said. "There will be zero tolerance for law-breakers who raise a hand against our soldiers."
The IDF Spokesperson said the soldiers from the Golani Brigade responded to the attack with riot dispersal measures and fired into the air in accordance with the military's rules of engagement.
"The IDF strongly condemns physical and verbal violence against its servicemen and views such incidents in a very harsh light," the army said.
The area has long been the site of tensions between the residents of the Palestinian town and the settlers of Yitzhar, with Israeli troops often caught in the middle.
The incident comes shortly after a resident of Yitzhar was arrested on suspicion of attacking the Golani Brigade patrol commander, Lt. Col. Ayub Kayuf.
According to the IDF, several settlers on Saturday night blocked the vehicle in which the officer was travelling, with one opening the vehicle's door and threatening to seize it.
Kayuf repelled the settlers and filed a complaint with the police.
Two days earlier, Golani military police arrested a youth from Yitzhar on suspicion of setting a fire in the valley between the hills of the settlement and the nearby Palestinian town of Huwara.
The head of Samaria Regional Council Yossi Dagan and IDF officials were trying to calm the situation on the ground on Sunday.
Dagan met with the soldiers who came under attack and told them that of the local residents' anger over the incident.
"All the residents of Samaria and Yitzhar are disgusted at the harm to our dear soldiers," he said.