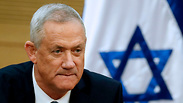 Blue and White leader Benny Gantz said Tuesday that he was optimistic he could form a coalition government, a day after Prime Minister Benjamin Netanyahu informed President Reuven Rivlin he was unable to do so and returned the mandate.
Rivlin is expected to task Gantz with putting together the next government, making him the first person other than Netanyahu to attempt to do so in more than a decade.
"We're going to do a day's work now," Gantz said Tuesday morning as he headed to the gym. "We're always optimistic, it's a way of life."
Netanyahu announced on Monday night that he was unable to form a government, blaming what he called Gantz's intransigence in a video message posted on social media.
Following Netanyahu's announcement, the director-general of the president's official residence, Harel Tubi, informed political party leaders that Rivlin was to give the mandate to Gantz, who like Netanyhau will have 28 days to form a coalition.
"I have informed President Rivlin that I'm giving the mandate back to him," the prime minister said in his video message. "Ever since I received the mandate I have worked tirelessly, both openly and covertly, to form a broad coalition government. That's what the people want, and that's what Israel needs in face of the the ever-growing security threats in the region."
Netanyahu said he tried to bring Gantz to the negotiating table, but to no avail.
"I did my best to form a broad coalition government and avoid another round of elections, unfortunately, time after time, Gantz refused. First he refused the president's outline for a (unity) government, then he refused to meet with me, then he refused to send his negotiating team, and finally, he refused the compromise I presented to him."
According to senior sources in the Likud, Netanyahu will now battle against the formation of a minority coalition by Gantz, which the Likud says is solely aimed at ousting Netanyahu.
"The nightmare scenario is the formation of a minority government whose purpose isn't to properly govern, but to remove Netanyahu from the position of prime minster," the Likud sources said.
Netanyahu intends to fight the formation of such a government with a whole political campaign, he's intentions includes fighting for the public's opinion, and pressuring political players to be uncooperative with such a coalition, additionally, Netanyahu intends to strengthen the unity among the right-wing bloc and to further cement his position in the Likud.
In response to Netanyahu's claim that Gantz was unwilling to cooperate, Blue and White party said: "The time for spin is over, now it is time to act. Blue and White is determined to form a liberal unity government headed by Benny Gantz, just like the public voted for a month ago."
Blue and White intends to meet with the heads of all the Knesset's factions, including those in Netanyahu's right-wing bloc.
The party is set to hold its first coalition meeting with Likud representatives in order to discuss the possibility of a unity government formed and initially headed by Gantz.
Senior Blue and White MK Moshe Ya'alon, another former IDF chief, said Tuesday that Netanyahu had dragged the country into elections in order to avoid looming criminal charges.
"Outgoing Prime Minister Benjamin Netanyahu has failed once again to form a coalition, and is finally forced to return the mandate to the president. We once again remind everyone that we were only supposed to go to elections next month, and all we've been through stems from the criminal involvement and fight for survival of Netanyahu - the rest is all spins and lies."