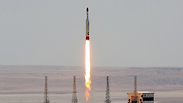 Israel reportedly preparing for Iran missile strike
Local media says Jerusalem preemptively bolstering defenses should Iran retaliate to ongoing series of attacks on its proxies attributed to IDF; sources says military will focus on deterring harder to detect, low-flying cruise missiles and drone strikes
Israel is preemptively bolstering its defenses over fears that Iran may retaliate against an ongoing series of attacks on its proxies in Syria and Iraq that have been attributed to Israel, Army Radio reported Tuesday night.

Citing unnamed sources, the report claimed Israel was focusing its defense capabilities on harder to detect, low-flying cruise missiles and drone strikes - unlike high-arcing ballistic missiles that are easier to intercept.

As tensions escalate in the region, the IDF has been on high alert and the security cabinet will convene for an impromptu meeting next week, according to sources.

Last month, citing several Iranian, Western and Iraqi sources, Reuters reported that Tehran had dispatched missiles to its allies as a "back-up plan" in case Iran was attacked by the United States or Israel.

The missiles, of which were said to be in the dozens, were intended to send a warning to the U.S. and Israel, especially following several airstrikes on Iranian troops in Syria that analysts have attributed to the Israel.

According to the report, the missiles have ranges of between 200 to 700 kilometers, saying Israel's densely populated city of Tel Aviv and Saudi Arabia's capital Riyadh were within striking distance if launched from southern or western Iraq.

Earlier this week, eyes have been on the Syrian-Turkish border as the U.S. pulled its troops from the region, but at Israel's request, U.S. President Donald Trump said he would leave a "small contingent" behind.

The pullback of the military presence by Israel's biggest ally has been a key concern in Jerusalem, and Israeli leaders have been outspoken on their mission to defend the country against the Iranian threat.