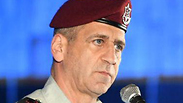 IDF Chief Aviv Kochavi
Photo: Yair Sagi
IDF chief: Israel's next main security challenge is Iran-led activity to north
Unveiling the army's new multi-year plan, Aviv Kochavi warns that situation is tense and fragile in both north and south, with possibility situation may deteriorate into conflict - despite Israel's enemies not being interested in war either
Israel's northern border - in particular Iranian-led activity - is the main security challenge the country faces, IDF Chief of Staff Lt.-Gen. Aviv Kochavi said Thursday.

"Israel's central strategic challenge lies in the northern arena," Kochavi told reporters at a press conference to unveil the military's new multi-year plan.

"At the heart of it are the entrenchment of Iranian and other forces in Syria and the precision missile project. In both situations, this is an Iranian-led effort, using the territory of countries with extremely weak governments," he said.

"For many years, Hezbollah has held the Lebanese state 'captive', established its own army, and is the one that actually determines the country's 'security policy.'"

As well as continuing its preparations for a confrontation in the north, the army is also aware of a potential flare-up in the south, despite the relative calm along the Gaza border in recent months, following Israel's steps to ease life for the civilian population there.

"Israel is currently dealing with multiple arenas and enemies simultaneously," Kochavi said Wednesday.

"In the northern and southern arenas, the situation is tense and fragile and may deteriorate into conflict - despite the fact that our enemies are not interested in war. As a result, the IDF has been accelerating its preparation process in recent months."

Israel sees Islamic Jihad as the organization most likely to drag the south into a new confrontation, taking up the mantle of violent resistance from Hamas.

These preparations for a potential conflict on either border have been stepped up in recent months following a series of incidents with Iran's Quds Force as well as its Lebanon-based proxy Hezbollah.

Alongside Iran's entrenchment in Syria, there have been other developments of great concern to Israel, such as Donald Trump's withdrawal of U.S. troops from northern Syria and his muted responses to the downing of a U.S. drone in the Persian Gulf and the attack on a major Saudi oil facility.

These low-key American reactions are thought to have only reinforced Tehran's sense of confidence and its ability to act proactively against Israel - not just in response to attacks by Iranian targets that have been attributed to the IDF.

Like his predecessor Gadi Eisenkott, who stated that Israel's number one enemy is Hezbollah, Kochavi views the entire northern arena as the main threat.

"Israel's central strategic challenge lies in the northern arena," said Kochavi.

The chief of staff's remarks echo comments by President Reuven Rivlin and Prime Minister Benjamin Netanyahu, who have also recently raised the significant security challenges ahead for Israel.