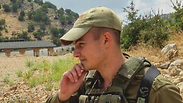 Israeli police and military are searching for an Israel Defense Forces soldier who has been missing for over 24 hours, the army said Monday.

Eliezer Ashkenazi, 20, left his home in the central city of Kfar Saba on Sunday morning, carrying a weapon and a small bag, on his way to a military base in the Golan Heights. He never arrived at the base.

"Throughout the night we've conducted a search for the soldier from Kfar Saba, who left his home at 5:30 am and unusually, did not arrive at the base," said Mike Ben Yaakov, a commander of police's canine unit. "He's a good soldier, who never went absent … so far, there is no lifeline."

Israeli police are asking the public for help locating the 20-year-old.

He was last seen early Sunday morning near his house in Kfar Saba located on Sokolov Street, wearing an IDF uniform.

Police are urging anyone with any information about the soldier to call police's 100 emergency hotline or the Kfar Saba Police Station at 09-7473555.