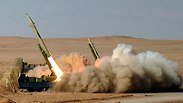 Iranian Ballistic missiles
Prime Minister Benjamin Netanyahu warned Monday that Iran is deploying precision missiles in Yemen in order to attack Israel.

In his meeting with U.S. Treasury Secretary Steven Mnuchin, Netanyahu said Iran hopes to be able to use such missile capability, targeting anywhere in the Mideast.

Netanyahu noted these efforts by Iran have been ongoing but the introduction of missiles to Yemen is for the purpose of targeting Israel.

According to the prime minister Iran intends to deploy precision missiles in Syria and Iraq as well as upgrading the 130,000 missiles arsenal in Lebanon.

Ynet security analyst Ron Ben Yishai says Iranian missiles fired from inside Iran are also capable of hitting targets in Israel but the deployment of such weapons around the Middle east including now Yemen requires a more extensive use of missile detection technology on the part of Israel including on its south.

"We regard Iran as the biggest threat to peace stability and security".

"They have attacked Saudi Arabia, disrupted international maritime routes and over the past decade, have attacked and killed Americans in Afghanistan and elsewhere."

Meeting in his office, the prime minister told Mnuchin relations between the two countries has never been stronger.

He congratulated U.S. President Donald Trump on the success of the mission to eliminate ISIS leader Abu Bakr al-Baghdadi.

"This man got what he deserved," he told visiting Treasury Secretary Mnuchin "we are still in the midst of the war against terror – not only against extreme Sunnis led by ISIS but also against extreme Shiites led by Iran and its Mideast proxies."

Steven Mnuchin told his host the administration plans to continue to ramp up efforts to curtail Iran's aggressive ambitions.

"We have executed on a maximum pressure campaign for sanctions. They have worked, they are working, they are cutting off the money," Mnuchin said.

Earlier the prime minister met with US Special Representative Jared Kushner.

Also attending the meeting were US Special Representative for Iran Brian Hook, US Ambassador to Israel David Friedman, Deputy Assistant to the US President Avi Berkowitz, National Security Council Director Meir Ben-Shabbat and Israeli Ambassador to the US Ron Dermer.