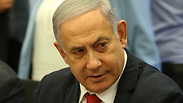 Prime Minister Benjamin Netanyahu
Photo: Amit Shabi
Prime Minister Benjamin Netanyahu announced Tuesday that he will establish a committee to address violence and crime in Israeli Arab communities after the recent spike in deadly violence in the Arab sector.

This decision came following a meeting on Monday headed by Netanyahu alongside Security Cabinet ministers and police officials.

The committee will hold discussions with Arab community leaders and will devise a policy within 90 days aiming to eradicate violence and crime in Arab society.

Furthermore, Netanyahu ordered for special budgets to be moved for the construction and operation of more police stations in Arab communities.

Arab citizens of Israel claim that Israel's security forces are suspiciously powerless when it comes to combatting violence in their communities.

The rampaging wave of violence and the lack of enforcement, sparked protests in Arab communities by citizens and political and local leaders all over Israel in the past few weeks.

Police say local leaders and residents must do more to help them impose law and order.