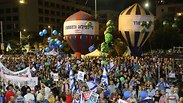 Rabin memorial rally
Photos: Motti Kimchi
Blue and White leader MK Benny Gantz is set to serve as key speaker at the annual memory service for the late Israeli Prime Minister Yitzhak Rabin that will take place Saturday evening at Rabin Square outside Tel Aviv city hall.
Parishioners will commemorate the 24th anniversary of Rabin's assassination by radical right-wing activist Yigal Amir under the mantra of "yes to peace, no to violence", which was hoisted over the square that faithful night of November 4th, 1995.
Gantz will serve as head speaker at the ceremony among several other speakers and artists and will take the stage at 8 PM.
The organizers of the rally have called out for the public's help with event expenses, as for the first time in the rally's history, no organization or charity have vouched to fund it.