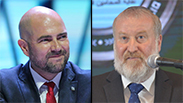 Ohana (left) and Mandelblit
Photo: Meir Ohayon and Alex Kolomoisky
Minister of Justice Amir Ohana attacked in a press conference Tuesday the State Attorney office for alleged misconducts in Prime Minister Benjamin Netanyahu's investigations in corruption cases held against him.

"There is a State Attorney office within the State Attorney office, it controls the schedule according to its political agenda. It's hard to believe that this is how the law enforcement system acts these days," said Ohana.

Ohana called upon the Attorney General Avichai Mandelblit, to investigate the leakage of information out of Netanyahu's investigations.

The Ministry of Justice published a statement on behalf of Mandelblit and State Attorney Shai Nitzan, rejecting Ohana's misconduct claims and calling them unfounded.

"The State Attorney and the Attorney General are very sorry for the remarks made by the Minister of Justice this evening," read the statement. "The law enforcement system will not be dragged into the political field, as it has not in the past. The independence of the General Prosecution is a fundamental principle of a proper democratic regime".

"We reject (Ohana's) attempt to besmirch the work of state law enforcement authorities without any evidential basis. The law enforcement system has, is and will continue to act unobstructed. No one will deter us from serving our duty or turn us from the right path".

Blue and White MK Ofer Shelah also denounced Ohana's claims, calling the justice minister's tenure "an embarrassment to his predecessors" and to the State of Israel itself.

"Justice Minister Ohana is signaling the twilight of Netanyahu's tenure," said Shelah. "Ever since he (Ohana) took office, he has mainly dealt with attacking the systems which he oversees, as an open emissary of the residents of the Balfour residence (the prime minister's residence)".

After Ohana's press conference, hundreds of right-wing activists rallied Tuesday evening at Goren Square in Petah Tikva, near Mandelblit's house, in protest of the legal proceedings against Prime Minister Benjamin Netanyahu.

Protesters claimed that State Attorney Shai Nitzan was "destroying democracy" and shouted chants in favor of Netanyahu and his wife Sarah.