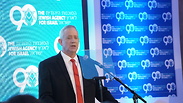 Blue and White leader MK Benny Gantz
Blue and White leader MK Benny Gantz announced Tuesday that he will embrace all streams of Judaism if he were to become prime minister.

"When I will be the Prime Minister of Israel, I will embrace all streams of Judaism. We are part of an inspiringly colorful mosaic of cultures and traditions. I will nurture this pluralism," said Gantz as he addressed Jewish leaders from around the world attending The Jewish Agency for Israel Board of Governors in Jerusalem.

Gantz said he will also push for the implementation of the Western Wall agreement, a compromise reached between Orthodox and non-Orthodox Jewish denominations, according to which the non-Orthodox "mixed" prayer area for men and women was supposed to be expanded in the southern part of the Western Wall.

"I will promote the implementation of the Western Wall agreement. Every time I go to the Western Wall, I look at the sea of stones — the different sizes and shapes — like the streams we have in Judaism. I'm telling you today, the Western Wall is long enough for all," said the former IDF chief.

Emphasizing the need for unity among the Jewish people during a time of increasing global anti-Semitism, Gantz also spoke on his mission to avoid a third election and form a unity government.

"Israel requires a stable, responsible, and pragmatic government. A broad liberal unity government, which I set out to establish from the moment I entered politics less than a year ago. This is the government the people chose and the one that they need".

"The divisive dialogue is tearing our strong nation apart. It may serve political purposes but is shredding the fabric that holds us

together. The rift between right and left, between secular and Orthodox, between the haves and the have-nots, between Jews and non-Jews, has grown wider and wider".

As of today, the State of Israel does not officially recognize other denominations of Judaism except Orthodox Judaism - meaning that conversion to Judaism, marriage and other various religious practices through the different streams of Judaism, such as Reform and Reconstructionist Judaism, are also not recognized by the state.