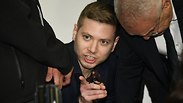 Yair Netanyahu
Photos: Yair Sagi
Prime Minister Benjamin Netanyahu's son lashed out at Israeli police, referring to them as the Nazi Gestapo, accused a senior Likud MK seen as his father's political rival of rape and claimed a former family aide turned state witness killed an IDF soldier in the past. Yair Netanyahu made the allegations during an explosive interrogation that was part of one the prime minster's corruption investigations, according to transcripts published Tuesday by Channel 12 television.

Netanyahu's son testified in Case 4000 - one of the three corruption investigations faced by the prime minister - which involves an alleged plan to ease regulations for telecommunications mogul and Bezeq chief Shaul Elovitch in return for positive coverage on his Walla! news website. Yair is investigated on suspicion that he had also accepted benefits from the businessman.

During the inquiry, he went on to accuse Likud MK Gideon Saar, Netanyahu's rival for the leadership of the party, alleging that he had raped his secretary and then gave her a senior position to silence her. "And you know the Gideon Saar story, but you don't investigate him because it's not interesting. "

The more the investigators pressed the 28-year-old the more he erate he became during the course of the investigation, labeling police investigators as the "Nazi Gestapo and Stasi" - the official state security service of the East Germany. He also called the investigation a "dilusional witch hunt."

"This is a police state, mafia. Sorry, not the mafia, at least they don't involve women and children," he added.

The conversation than turned to Nir Hefetz, a former Netanyahu media advisor and close aide who signed a state's witness agreement granting him full immunity. Hefetz is expected to incriminate Netanyahu both in the illicit gifts affair (Case 1000) and in the Bezeq affair (Case 4000).

During the interrogation, the prime minister's son tried to distance himelf from the former Netanyahu family "confidant", saying that he was merely "paid to do his job."

Investigator: What do you think of Nir Hefetz, on a personal and professional level?

Yair: A scum bag and an extremely bad spokesman. I always told my parents to replace him. They agreed and searched for someone for a long time but couldn't find a qualified candidate. It wasn't urgent, just out of habit.

Yair then claimed that Hefetz killed an Israeli soldier and dragged his body to train tracks in order to get rid of it. "I also didn't know the story about the dead soldier. If we had known he killed the soldier and dragged his body, we would have not hired him," he said. "He used to bad-mouth us behind our backs, we didn't know about that ... That's your state witness."

The 28-year-old then went on to explain his personal relations with Elovitch and the reason he turned to the media magnate for help. "I tried to get a handle on the dichotomy. I know they were 'our people', right-wing politically and their news website (Walla! News) was disgustingly radical left," he said.

"After the Hebron shooting incident (when IDF soldier was sentenced to 18 month in prison for manslaughter for shooting an unarmed Palestinian in the West Bank city of Hebron), I showed him (Elovitch) a bunch of op-eds and comments by famous right-wing bloggers, calling the website 'Walla-Akbar', saying that it's leftist trash and that they support terrorists," he said.

The prime minster's son then went on a rant, accusing the left-wing and implying he is only being targeted due to his connection to Benjamin Netanyahu. "Shame on the police for investigating me, and your state witness who killed a soldier will be released ... And just because I'm his son you're investigating me. It's disgusting," he said.

"I'm investigated in order to drive my parents mad. You know that a child is the most precious thing to a parent."

"If the report is true, I full heartedly reject all of the gross allegations Yair tried to throw at me during his police testimony," Gideon Saar said in a statement. "This is more evidence of a ruthless campaign meant to spread falsehoods about me to besmirch my name and my political activity – it will not succeed".

Yair Netanyahu's legal team's also issued a response, calling the "never-ending" leaks from the investigation "a gross attempt at shaming."