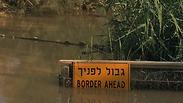 The area where the Israeli was caught
Photo: Gilad Carmeli
Israeli jailed in Jordan is an immigrant who fled from authorities
Sources say the detainee appears to be an immigrant from a former Soviet Union country; in the meantime, Israel's deputy foreign minister denies claims the 2 Jordanian nationals held by Israel were arrested illegally, claiming the pair committed 'security offences'
An Israeli arrested by Jordan appears to be an Oleh Chadash, a new immigrant, from a former Soviet Union country on the run from the local authorities, diplomatic sources said Wednesday. The sources added the incident is not expected to lead to diplomatic crisis between the two states.

Jordanian authorities arrested the Israeli national who was swimming in the Jordan River on Tuesday and allegedly crossed the border along the river's eastern part. He was taken by Jordanian security forces for further questioning, while the Foreign Ministry said the incident was under investigation.

Earlier, a senior Jordanian lawmaker, Nidal a-Taani, claimed the kingdom intends to use the Israeli detainee as a "bargaining chip" to get Israel to release two Jordanian citizens, who the country claims are held illegally and without charge.

Despite the bold statements, Jordanian government is yet to make an official proposal for prisoner exchange of 32-year-old Hiba Labadi and 29-year-old Abdul Rahman Miri. Ayman Safadi, the country's foreign minister, said in a tweet he held the Israeli government responsible for the lives of Labadi and Rahman Miri, adding that their health had severely deteriorated.

Israel's deputy foreign minister, Tzipi Hotovely, denied the claims the two Jordanian detainees were being held illegally, saying the pair is suspected of security offences.

Labadi, 24, was arrested in August after crossing to the West Bank to attend a family wedding and so far has not been indicted. She subsequently went on a hunger strike and was hospitalized after her health worsened.

Speaking on Army Radio, Hotovely said Israel was within its rights to detain the pair.

"If someone commits a security offence, it is our duty as a state to arrest him and to clarify matters," she said.

Israel mainly uses administrative detention against Palestinians suspected of anti-Israeli activities.

Jordan's 1994 peace treaty with Israel is unpopular among many in the kingdom, where pro-Palestinian sentiment is widespread. Many of Jordan's 7 million citizens are of Palestinian origin.