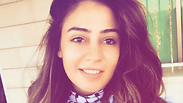 Hiaba Labadi a Jordanian under Israeli administrative arrest
The relationship between Israel and Jordan is sometimes characterized as a "cold peace," and this week, which saw the 25th anniversary of the two nations' peace treaty, was especially frigid.

Jordanian parliamentarian Nidal a-Taani suggested on Wednesday that the Hashemite kingdom could leverage the arrest of an Israeli citizen to secure the release of two Jordanians held by the Jewish state.




That same day, Jordanian Foreign Minister Ayman Safadi made public that Amman was recalling its ambassador to Israel over the detention of Hiba Labadi and Abdul Rahman Miri, held for what Israel says are security-related issues.

The Jordanian Foreign Ministry also announced the arrest on Tuesday of an Israeli, whose name has not been released, for allegedly entering the kingdom unlawfully.

Despite this week's events and increased tensions in recent years, some experts say the relationship between Israel and Jordan is better than it might appear.

Egypt signed a peace treaty with Israel in 1979, and Jordan is the only other Arab country to have done so.

However, tensions between the two countries have been common, especially over the past few years over issues such as the Jordanian-controlled Temple Mount and the proposed Red Sea–Dead Sea Water Conveyance pipeline project.

In October 2018, King Abdullah II decided not to renew the lease to Israel of approximately 250 acres of land that was part of the 1994 peace deal and was scheduled to expire this year.

A principal point of contention is the Israeli-Palestinian conflict. "Sixty percent of Jordanians are of Palestinian origin, and they don't feel Israel is being fair in administering the occupied territories," Jordan-based political analyst Dr. Labib Kamhawi told The Media Line.

"The relationship is colder than it was 25 years ago, and it's more intense than it was a few years ago because (of Israeli Prime Minister Benjamin Netanyahu's statements to the effect that) if he would win the (September 2019) election, he would annex the (West Bank portion of the) Jordan Valley, which Jordan cannot accept," Kamhawi said.

"Israel has shown no respect for Jordanian sovereignty".

He said that the treaty the two countries signed in 1994 did not truly achieve peace.

"Peace between governments is not difficult to attain, but peace between peoples requires more than signing a piece of paper; it requires creating mutual confidence in the good intentions of both parties," Kamhawi said.

However, some analysts believe that Israel-Jordan relations are in a better state than the term "cold peace" suggests.

Prof. Hillel Frisch, field researcher at the Israel-based Begin-Sadat Center for Strategic Studies (BESA), contends that while the Jordanian government uses anti-Israel rhetoric to appease segments of its population, it does not truly want an independent Palestinian state.

"A Palestinian state would be a threat to the Jordanian monarchy," Frisch explained.

He said that the Israel-Jordanian relationship has essentially stayed the same since the 1994 peace deal.

Frisch added that the events of this week were not "unique" as Jordan had recalled ambassadors in the past, with the difference being that this time it was not preceded by mass violence or protests.

Jordanians have held demonstrations over their two compatriots' detention in Israel, but they have not been widespread.

"This relationship is cyclical, like everything else about Jordanian politics where there are cycles of reform and back to a halt. It's the same for the Israeli-Jordanian relationship," Frisch said.

Dr. Abdullah Swalha, director of the Center for Israel Studies in Jordan, agrees: "I think the relationship between Israel and Jordan goes up and down".

He said that the golden age of Jordan-Israel relations was between 1994 and 1999 but that the partnership was strained by the Second Intifada, which began in 2000.

While he agrees that ties have worsened over the last several years, he contends there have also been solid successes, particularly in trade and security.