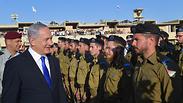 Netanyahu at the IDF Ground Forces officer's course
Photo: GPO
Netanyahu says 'absence of response' encourages Iran aggression
In a thinly veiled dig at Trump, who called off a strike on Iranian targets after the downing of a U.S. drone, PM says the Islamic Republic's 'threshold of daring' is increasing and vows to 'strike harshly' anyone who attacks the Jewish State
The prime minister says Iran is becoming increasingly aggressive in the region due to the lack of response to its recent actions.

Speaking at a military ceremony Thursday, Prime Minister Benjamin Netanyahu said Iran and its proxies are "relentlessly arming themselves."

"Iran's threshold of daring in the region is rising and it grows even more in the absence of a response," he said.

Netanyahu did not elaborate, but the comments come after a U.S. pullback of forces from Syria and a lack of response to an alleged Iranian attack on Saudi oil facilities. In June, President Donald Trump called off a planned attack on Iran in response to the downing of an American drone.

Netanyahu said Israel "will not hesitate to strike harshly at anyone who tries to attack us ... Whoever is bent on aggression, will be met with a vigorous response, and will pay a heavy price."

"The area around us is stormy and restive. There are threats on every corner: in Syria, in Lebanon, in the Gaza Strip, as well as in Iraq, Yemen and directly in Iran. Where not?" Netanyahu added.

The remarks came just jours after media outlets affiliated with Hezbollah reported that the Iran-backed Lebanese terror group downed an Israeli drone over southern Lebanon.

The claims were swifly denied by the IDF that said an anti-aircraft missile was fired from Lebanon at one of its drones but the aircraft was not hit in the rare launch.