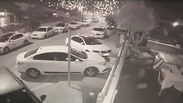 The moment a Gaza rocket hits a Sderot home is caught on security cameras
The moment a home in the southern city of Sderot was hit by a rocket fired from Gaza was caught on security camera on Friday night.
The home was hit in a barrage of rocket fire from the Hamas-run coastal enclave, with three waves of strikes beginning at around 9pm.
The Iron Dome missile defense system brought down at least seven rockets, the Israel Defense Forces said. Israel says Gaza's Hamas rulers are responsible for any fire from the coastal enclave.
The moment a Sderot home is hit by Gaza rocket
The momenf of impact can be seen in the footage as a brilliant flash of light followed by a mass of sparks caused by the strike.
The residents of the house, a couple in the their 40s and their children, ran into their protected area in an adjacent building when the sirens sounded. None of the family members were wounded.
"This is not a game," the family said. "We ran for the protected area as soon as we heard the sirens; we are used to it."
A paramedic from the Magen David Adom emergency service who was called to the home hit by the rocket found a chaotic scene, but no injuries.
"When we got to the street there was a lot of hustle and bustle, there were several cars with shattered windscreens," said Alex Kusinov.
"The residents of the house, a couple in their 40s and their children, were in an adjacent building," he said.
"They told us that as soon as the sirens sounded, they entered the protected area and left a few minutes later. They were not injured and did not need medical attention."
No Palestinian groups claimed responsibility for the rocket fire, the second incident in 24 hours after nearly a month of relative calm.
Earlier on Friday, Gaza's health officials said scores of Palestinians were wounded by live fire during protests along the Gaza-Israel border fence during the weekly "March of Return" protests.
Some 2,700 protesters gathered at several locations along the fence, with some throwing stones, firebombs and improvised explosive devices at IDF troops across the barrier.
On Thursday night, a rocket was fired from Gaza that hit an open area in a nearby Israeli community. The IDF said one launch had been identified.
In response, IDF fired a tank barrage at a Hamas position in the Strip.